Five Electives You Should "Elect" to Take
Photo courtesy of The Warrior News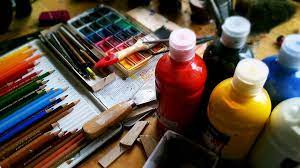 Every year students schedule their classes a year in advance, and sometimes choosing your schedule can be daunting. What classes should you take and why? What are some classes people have enjoyed taking? Wonder no more! Here are five classes Saint Joe students recommend that you should take!
Anatomy and Physiology
As this was personally my favorite science class, I had to mention it on this list! Anatomy and Physiology seems intimidating. In reality, it's quite fun! It's good to know how your body works and it's interesting to learn about the different systems. Often, students enjoy the process of dissecting fetal pigs each year, as a way of learning about the body. 
Ceramics & Digital Design
Like many of the classes I would recommend to take in the art department at Saint Joe, ceramics and digital design are two of the most popular classes taken. One of the most sought after classes in the school, ceramics is a relaxed and fun class where students learn to create ceramic pieces. From flower vases to unique sculptures, students can create anything they dream of. Digital design teaches students how to use photoshop by altering photos and creating designs. Many students say this class is also fun and relaxed and students like the different projects they made. 
Narratives of Redemption
Formerly known as "Film Literature," students in this class study different films about redemption storylines. Students get to learn about the art of filmmaking by creating their own mini movies and learning about the history of how film was made! For being an English class, there are only a few major papers that need to be written for the class. It's stress free, interesting, and a fun English class to take.
Student Media
Have you ever wondered what it's like to be on morning announcements! Join student media to find out! In this class, students write articles for The Square, create videos for morning announcements, contribute photos to the yearbook, and broadcast the morning announcements. Learn how to operate the tricaster and sound systems or become the writer or anchor for the news!
Psychology
Psychology is one of the most interesting classes one can take at Saint Joe. Learn how and why your brain functions, and how to understand others and yourself better. You can learn about human behavior, and even learn more about others and yourself.