Community Award Winners – January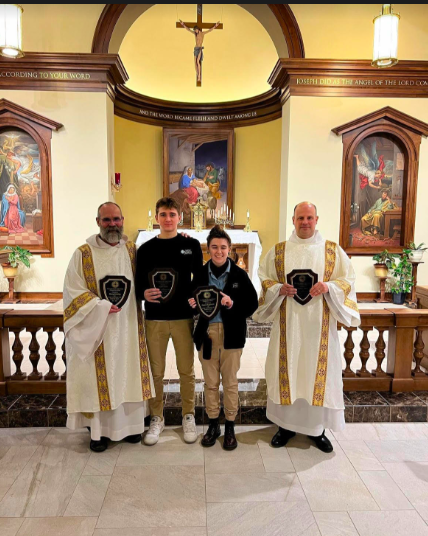 We kicked off January with our community awards at Mass – as Mr. Kennedy recognized Gabe Nanni, Lauren Eggleston, and Deacons Andy and Harry.
Gabe Nanni is described as hard-working, friendly, polite, and welcoming to all by the students and teachers. He is a part of many clubs at Saint Joe, such as National Honor Society, peer mentors, and is currently the president of Best Buddies. He has helped the community by participating in volunteering for SJ Sports Camps and ICCL Basketball. As far as sports go, he has been a 4-year member and current captain of, both, the basketball team and soccer team. Our Male Community Award Winner for the month of December is Gabe Nanni. 
Lauren Eggleston is known as thoughtful, kind, and a joy in the classroom. She is also involved in such clubs: National Honor Society, student ambassadors, quiz bowl, drum line, Unity Council, Student Council, and has been a regular participant in the fall plays and spring musicals. She helps out the community by volunteering at the 4-H program, Pet Refuge, and the American School of Music. Our female winner is a member of our Liturgical choir, a cantor at Mass, and participated in the Pueri Cantores Choir. She has taken her talent beyond the school and has medaled in the Indiana State School Music Association competitions, and been a teen finalist in the Hoosier Star competition. Our Female Community Award Winner for the month of December is Lauren Eggleston.
The Faculty and Staff title goes to one person, but in this special occasion, two of Saint Joseph's teachers are nominated for this award. These two winners have recently been ordained as Deacons on January 7, 2023. The process is a long, hard-driven, task that not a lot of people get the chance to have. They devoted their time, effort, dedication, and prayer into this process and it was all worth it. The two staff selected for this award are Deacon Andy (Andrew Oross) and Deacon Harry (Harry Verhiley). These men care about their students, are passionate about teaching the faith, who love and are dedicated to Saint Joseph High School, and who are fully devoted to their faith and to serving God and our Church. 
Congratulate Gabe, Lauren, Deacon Andy, and Deacon Harry for their accomplishments.