Local Spotlight: Java Bowl of Soul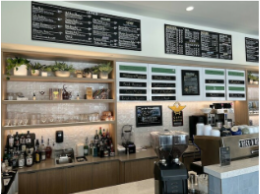 Where do you go when you're feeling like experiencing a blast to the past while remaining in a modern environment? This is exactly the type of feeling Todd Rippo wanted to convey to others when he founded Java Cafe, otherwise known as Java Bowl of Soul, in 1991. He wanted a place where people could hang out, listen to rock and roll, and drink good coffee. He got what he wanted and started what would later become a successful franchise.  
Flash forward thirty years and a new Java cafe was founded in our very own city of South Bend. Plans for the cafe were first announced in an article by the South Bend Tribune. The article briefly explains the history of the cafe as well as what can be expected from it once construction is completed. Under the same name and containing the same origin story, it is actually separate from the six locations that already exist in Idaho as well as California. Though disconnected, its sources and vibes remain the same. 
Located on Main Street in the Barnes and Thornburg Building, Java specializes in drinks such as coffee, tea, chocolate as well as breakfast and lunch options. Some breakfast options include avocado toast and french toast; lunch choices include a variety of soups, and baked goods made fresh every day.. Though having been established less than two years ago, there are plans for the cafe that have yet to be completed. Examples of this include a liquor license that will allow for liquor sales and the possibility of offering dinner food in addition to the breakfast and lunch food. 
The feeling of walking into Java Cafe is a comforting one. The mixture of people, good food, and soothing smells are enough to make anyone happy. I have visited multiple times and am happy to say that I have left each time anticipating the future where I would stop by again.