Daisy Jones and the Six Series Adaptation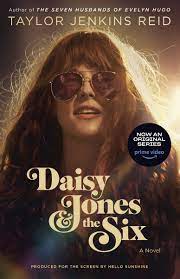 When I heard that one of my all time favorite books was being turned into a mini series, I was ecstatic. Taylor Jenkins Reid, the author of Daisy Jones and the Six, is the mastermind behind this novel. 
Diving into the world of rock and roll in the 1970's, Daisy Jones is an upcoming star in the music industry. After she is paired up with the band "The Six," the group is on a course to become one of the legends of the decade. However, rock and roll is never just "rock and roll," and the band becomes intertwined with the drama of Los Angeles, and the issues between band members. Daisy and Billy, are nearly always at each others throats, despite their unbelievable chemistry while making music. Their story is one everyone will love.
Now this novel is coming to life. Amazon Prime Video will premiere this mini series on March 3rd, 2023! Following the release of the series trailer, a song from the series was released on streaming platforms titled "Regret Me." The band from the novel will release a full album titled "Aurora" which is mentioned throughout the course of the book as Daisy and her band write the album.
What makes this adaptation even more intriguing is the cast. Playing Daisy Jones, Riley Keough takes on the role of this rock roll legend. This role must've been destined for Keough, as she is the granddaughter of Elvis Presley and the stepdaughter of Micheal Jackson. Playing Billy Dunne is Sam Claflin who is best known for roles in films such as Me Before You and Enola Holmes. Other actors that will be starring in this mini series include Camila Marrone, Josh Whitehouse, and Suki Waterhouse.
If you're looking for a new tv series or even a book to read, check out Daisy Jones and the Six. I promise you won't regret it!