Biden's State of the Union Address: Key Points and Moments
Last Tuesday, President Joe Biden delivered once more his annual State of the Union Address, to the first full House Chamber in his presidency (due to COVID restrictions). And while the address may not be as must-see television as it once was, the night certainly had some key points and memorable moments to look back on – especially since this will serve to kick off Biden's almost inevitable 2024 re-election campaign. Here's some key points of what went down on Capitol Hill during the speech, and what it signifies heading into the 2024 election season.
REPUBLICANS OPENLY SPAR WITH BIDEN
If you've seen anything from the address coming into social media feeds over the past few days, it was likely this. The State of the Union has historically been a relatively respectful affair, with the only sources of drama coming from which sides of the aisle clap for which statements. However, all of that has begun to change in recent years, and nowhere was it more prevalent than tonight. 
The biggest moment occurred when Biden accused Republicans of having proposals to let Social Security and Medicare run out – which prompted yells and shouts of "liar" from the Republicans on the floor. Biden then jokingly responded with "as we all apparently agree, social security and medicare are off the books now…we got unanimity!" 
With a few other offhand interruptions from the right (and more Biden deflections), the back-and-forth was big once again from the Democrats, who seek to portray the Republicans as unwilling and unable to govern, especially after their struggles to nominate a Speaker of the House and open Congress back in January. 
BIDEN: "LET'S FINISH THE JOB"
President Biden has not officially announced his re-election campaign, and while most, if not all presidents do so, Biden's advanced age (80!) is more often a factor than not. Yet his address was very much a campaign message through and through, with lots of focus on passed legislation in his 2 years in office. Chief amongst these were the 1.2 trillion dollar infrastructure bill, the CHIPS Act (a bill to foster manufacturing of computer chips in the U.S), the Inflation Reduction Act, and COVID-19 relief packages. Along the way, Biden touted his bipartisan work, and noted that many effects of these bills and more hadn't taken effect yet, contributing to his key theme of the speech: "Let's Finish the Job."
Biden also took aim at some other unfinished priorities–legislation on labor, education, drug pricing and availabilty, and paid family leave. He also touched on immigration and controversies at the U.S.' southern border–which few Americans approve of the job the administration has done in the past few years. Overall, the balance between "I did that" and "vote for me and I'll do that" was relatively even.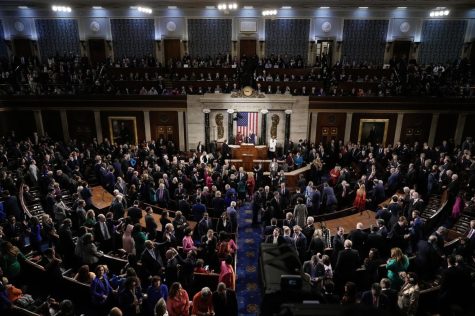 A CHANGE ON POLICING
One of the more powerful moments of the speech occurred when President Biden addressed the family of Tyre Nichols, who were in attendance as Biden's personal guests. The video illustrating Nichols' death in an encounter with five Memphis policemen has once again sparked a national conversation on police brutality and trust in the nation among African-Americans, and Biden's addressing of the issue took a much different tone than last year's address.
Last year, Biden took a firm stance on supporting the police, loudly calling to "Fund the Police", in direct opposition to the "defund the police" messages of 2020. Here, Biden didn't completely flip flop, but he attempted to explain much of the fear and mistrust many people of color face–while additionally calling for support of the police who had earned community trust. Biden also called for more mental health resources and community programs to help the police focus on protecting the community, and not also serving as mental health officers and far too many other jobs.

WHAT WASN'T SAID: CHINA AND THE CULTURE WAR
Biden's style throughout his presidency has been to focus more on domestic issues of the middle class, which means that the two major things largely left out of his speech–China and the "culture war" make sense. However, with the news cycle being dominated by a spying Chinese balloon taking a days-long flight across the U.S., and Republicans pushing heavily conservative social policies on abortion and LGBTQ+ people across the country, the absence of these fronts may have come across as a little surprising. Although Biden tried to come across as above these issues, he certainly risks the possibility of seeming unconcerned about them. The end of his speech, a plea to protect democracy in the wake of election denialism and the January 6th riots did touch on the culture war divide to an extent, however. Presumably, more on these fronts will be spotlighted on the campaign trail, especially as the Republican primary heats up, largely between former President Trump and Florida Governor Ron DeSantis.
Overall, Biden's State of the Union Address was more interesting and substantive than his past few addresses to Congress have been. The President didn't make too many gaffes or stumbles (something he's oft-criticized for), and seemed relatively lively. The question is, will this message be enough on the 2024 campaign trail? For that, we can only wait.