Dress Down Days at SJHS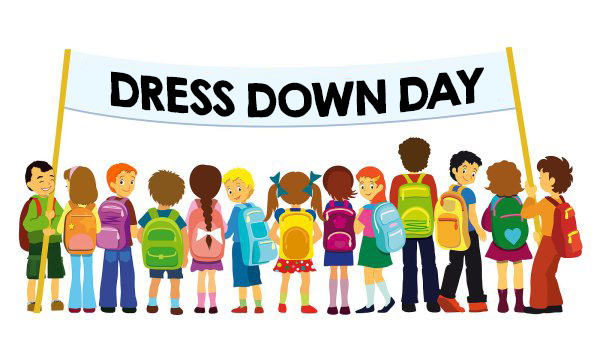 Saint Joseph High School has several dress-down days throughout the school year. There are about two dress-down days a month on which students bring a dollar or more to support the organization for which the dress-down is being held.
The Dress Down Schedule for the rest of the year:
February 24th: Aidan Short Memorial/ Masterpiece
Aidan Short Memorial/ Masterpiece is for the Aidan's Masterpiece Club for them to continue their club events like painting the parking spot and participating in club activities.
March 10th: Samantha Hickey Foundation
Samantha Hickey Foundation was founded in South Bend. Their mission is "To improve the quality of life for children suffering life-threatening diseases and their families in the South Bend, Indiana area."
April 14th: Riley Hospital
Riley Hospital is a children's hospital down in Indianapolis that gives kids the best healthcare. The hospital helps kids who are battling cancer and other diseases.
April 28th: Together for the Long Run
Together for the Long Run is a club at Saint Joseph High School which organizes a field day for individuals who have developmental disorders.
May 19th: Student Choice
Student Government picks the Student Choice Dress Down Day in mid-April. (To be announced at a later time)
June 1st: Free Dress Down Day
This Dress Down Day is a free entry for both students and staff.
The Seniors will also be having a dress-down day for winning the class completion back in early February. There is no dress-down day fee. The date for DDD has not been announced. Make sure to bring a dollar or more each Dress Down Day to support the organizations and clubs that benefit.