Ant-Man Quantumania: Is this the right direction?
The latest installment in Marvel's never ending franchise.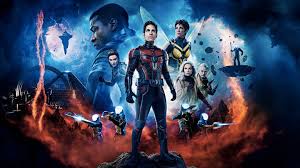 (Spoilers ahead)
The Fifth Phase of the Disney sponsored Marvel Cinematic Universe has kicked off with Ant-Man and the Wasp: Quantumania, leaving fans divided on the future of the franchise. Supporters hail the masterful CGI work and top tier acting performances. Critics call it Marvel's answer to Star Wars. 
The third installment in the Ant-Man trilogy takes Scott Lang (Paul Rudd) and his family to the Quantum Realm, the microscopic domain they encountered in the previous two movies. They are tasked with freeing the realm from the clutches of Kang the Conquerer (Johnathan Majors), a bloodthirsty warlord from the multiverse. For the first time in the MCU, the audience is given a detailed backstory for Janet Van Dyne (Michelle Pfeiffer) and her 30 years spent in the Quantum Realm. Pfeiffer delivers a stellar acting performance with a well-developed character arc as Janet confronts her haunting past. Newcomer Cassie Lang (Kathryn Newton) makes a great addition to the franchise, as her defiant portrayal of Scott's daughter steals the show every time she appears on screen. Evangeline Lily and Michael Douglas had notable performances as Hope Van Dyne and Hank Pym, although not much character development. The real star of the film was Johnathan Majors. Majors' performance made Kang one of the most compelling villains Marvel has seen in years.
While some individual actors showcased the best of Marvel to come, the film itself had some major flaws. The plot seemed to develop at a snails-pace, so much so that the only people who seemed to be surprised were the characters. Forgettable side characters filled far too much screen time, and the ending was far too happy. The trailers hinted at major deaths and game-changing ending, which never happened. The villain lost, and the heroes went home after suffering relatively no consequences. Kang is one of the most ruthless villains in the comics, he shouldn't have lost to an army of ants. Critics are being far too harsh on the film as a whole, but it really was a step in the wrong direction for Marvel.