Senior Feature: Miriam Rios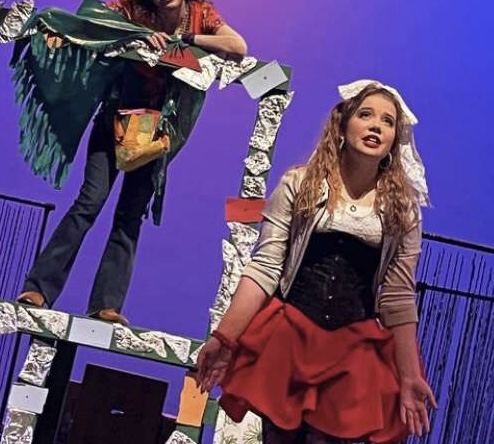 Senior Miriam Rios shines in the classroom and on the stage. Rios has been a member of Saint Joe Theater for three years of her high school career (minus her sophomore year only because of the pandemic)! 
Rios began seriously pursuing theater in 7th grade, and joined Saint Joe Theater in her freshman year. She performed in her first show at Saint Joe, Almost Maine, and stuck with it ever since then. Her love of acting and performing is what keeps Rios going, and keeps her on the stage.
Rios has been in a total of six Saint Joe plays and musicals. The shows include Almost Maine, Music Man, 30 Reasons to not be in a Play, A Midsummer Night's Dream , Footloose, Hello Dolly. However, Miriam has played in a variety of plays since joining theater in middle school.
Although Rios has been in many plays and musicals, she says that her favorite role has been Hermia in A Midsummer Night's Dream. She says she "…enjoyed the challenge of putting on Shakespeare and Midsummer was one that I was familiar with." She also recounts how much fun she had playing Hermia.  She loved her whole experience with the show including all the friends she got to work with. 
In the future, Rios hopes to work in film or professional theater. She has been auditioning for AMDA (The American Musical and Dramatic Academy), which is a prestigious school in New York and Los Angeles. AMDA is known for its fantastic performing arts programs, and their theater and musical theater majors are outstanding for young and upcoming artists. AMDA has many well known alumni including Jason Derulo, Madeline Brewer, and Jesse Tyler Ferguson. In addition, she has applied to an array of theater programs, and is also interested in possibly pursuing journalism as a second major! 
Wishing Miriam Rios the best of luck wherever her passion for theater takes her!