State Bound Sisters
Senior, Ella and sophomore Lauren Frick are phenomenal athletes at Saint Joseph High School. They are certainly an  inseparable athletic duo, playing soccer and diving together as well as track.
 In 2022, they both qualified for state, Lauren running the 800 yard dash and Ella running the 100 and 300 yard hurdles. 
 They are preparing for the 2023 season by "using our success from last year as a model of what to do for this upcoming season."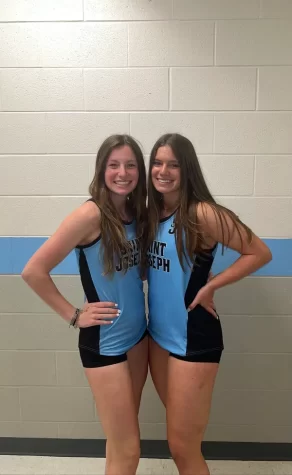 Lauren's favorite part about running track with her sister is that she always feels as though she has someone to talk to and confide in when the pre-meet stress rises. Ella's favorite part is growing closer with her sister as well as gaining some more inside jokes!
The track and field team is a large team made up of boys and girls partaking in many different aspects of the sport. Lauren says, "I love having a team combined of boys and girls so that the meets are really fun and there is a lot of socializing."
Although Ella is suffering through an injury from diving currently, both sisters are super excited for the track season.
Wishing luck to the both of you girls!