Senior Spotlight- Paige Harding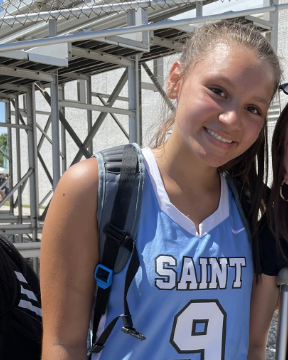 Senior Paige Harding is involved in a variety of activities here at Saint Joe. You can see her smiling face on the sideline, in the hallways, and at numerous club activities.
Currently Harding focuses her energy on Aidan's Masterpiece, Spirit club, and Lacrosse. In fall she also is involved in volleyball. She has been involved in Aidan's Masterpiece and Spirit club for all four years of her high school experience. She finds the time devoted to Aidan's Masterpiece to be especially meaningful since they are involved in community service to keep Aidan's legacy alive.
She enjoys Spirit club which offers the chance to pick themes for sporting events, make banners for football games, and plan pep rallies. Spirit club also helps motivate the student section to keep the spirit alive and support our student athletes!
Harding has played both volleyball and lacrosse since 5th grade when she attended Saint Anthony's. Harding played varsity  volleyball her junior and senior year. She is a right side hitter but is happy to play anywhere the coach needs. Harding also played travel volleyball for NIVA her eighth grade through junior year of high school.
Harding is just getting into the swing of her senior year lacrosse season. She first gained varsity minutes her freshman year, and has played fully for varsity since her sophomore year. She is excited to start the new season. Harding won the mental attitude award in 2021 and then was named the team MVP in 2022.  She has been captain for two years. Harding was selected for first team, Indiana showcase and is a sectional 5 regional All-American.
Harding is currently deciding between Miami University in Oxford, Ohio and Dayton University (also in Ohio). She is planning to major in exercise science/kinesiology on the pre physical therapy track.
HArding looks to finish her lacrosse career in style as the girls team kicks off their season on March 17th.