Key Route for Students to Close for Rest of School Year
Campeau Street and South Bend Avenue Will See Closures Through the Summer, Affecting Many Drivers.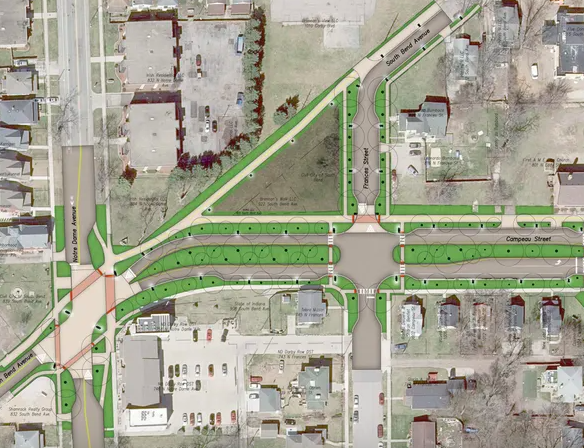 Road Work Ahead? I sure hope it does!

Dad jokes aside, if you're heading to school in the next few months (which I certainly hope you are), you'll likely be seeing some of these ubiquitous signs blocking some of the main arteries to and from Saint Joe. Most notably, chunks of South Bend Avenue and Campeau Street will be closed from now all the way until the end of the school year in May. If you're unfamiliar with the area, or aren't sure which streets these are, this is one of the main ways to get from State Road 23 to the Saint Joe and downtown areas – most people turn off of 23 at the First AME Zion Church, near Rise Up Academy (formerly Perley School). The street then heads Southwest past a number of houses, Rocco's, and eventually hits Hill Street, where students can turn into the parking lot from. However, for the next two months, this route won't be possible for most students.
Why are streets closing?
Formally called the Campeau Streetscape Project, the road will be closed primarily to improve safety for pedestrians and cyclists. As a key route from downtown to Notre Dame, these streets are some of the most traveled in the city for non-automobile traffic, yet they're quite dangerous due to speed. "The street racing in the middle of the night had gotten pretty annoying" said a Saint Joe student who lives in the area. "And cars going forty every day at 8 o'clock in the morning isn't the safest thing in the world". If you've ever walked these streets to Eddy Street for a post PSAT-Five Guys run, you likely know what I mean.

As a result, the project will narrow streets, reduce speed limits, increase driver visibility, and raise crosswalks to provide built in speed bumps. New trees will additionally be planted for aesthetic improvements, and generally connecting the Eddy Street area and surrounding neighborhoods to downtown, especially as Eddy Street expands closer to the downtown area. 
What different routes can I take?
Saint Joe firstly recommends you take an official detour by turning onto Howard Street at the light by the Robinson Center and Trader Joe's, then take Howard all the way to Hill Street, which then leads to the parking lot. Now this route can have some issues. Firstly Hill splits streets, so you'd technically need to turn on Hill at Howard, then onto Corby, then again onto Hill. (I also will be describing these steps as getting to school, not leaving it, so if you were going down State Road 23 in the morning westward towards Saint Joe). This main route also has unfortunate road issues–Hill street north of South Bend Avenue is paved with bricks, which is great for history nerds and quite annoying for tires. Hill in between Corby and Howard also is in very very poor condition. I don't recommend it.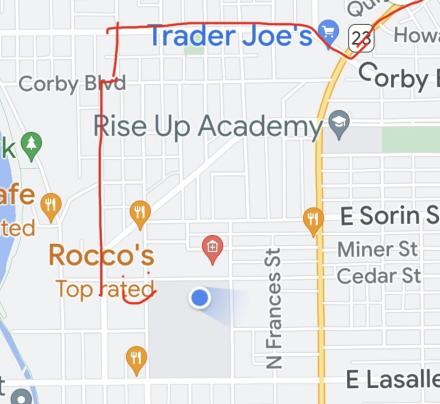 You also can go down to Cedar street, and turn right at the light between that and S.R. 23 (known as Eddy Street at this point). However, this route isn't terribly recommended because in the morning, that area is filled with drop-off at the other side of the school. It certainly might work for non-school days, however. 
Another option may be to go down 23/Eddy and turn right at La Salle. This overshoots a bit, but especially if you're a junior, you'd get to the parking lot at a good pace by driving past the football field and turning right near Saint Joe Grade. However be careful with this as well–there's a lot of traffic there due to Saint Joe Grade drop off, and because a stoplight has been out there for a decent amount of time.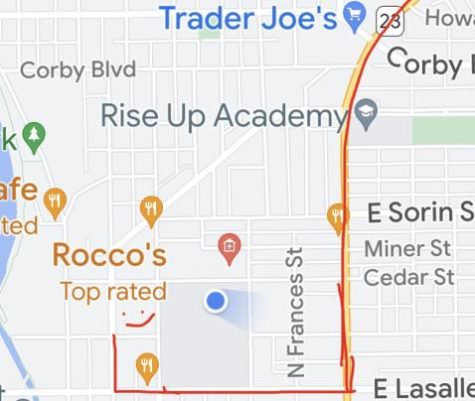 Overall, you'll want to plan to add a few minutes maximum to your trip in the morning. The road being closed won't be a valid excuse for coming late, so be aware of what your route is ahead of time.
How long will it take?
As of today, the project is expected to be completed in two parts, with the Campeau and Frances intersection (just after the church and near Brennan's View Apartments) to be completed in mid-May, followed by the South Bend Avenue and Notre Dame Avenue intersection fully closed from May until July. And of course, you likely could expect some delays. End of the day, you'll need to find new routes from now until the end of the school year.
For more information on the project as a whole, you can visit the official website at https://together.southbendin.gov/campeau, or check out articles from WNDU or the South Bend Tribune.