Discover…Discover Saint Joe Day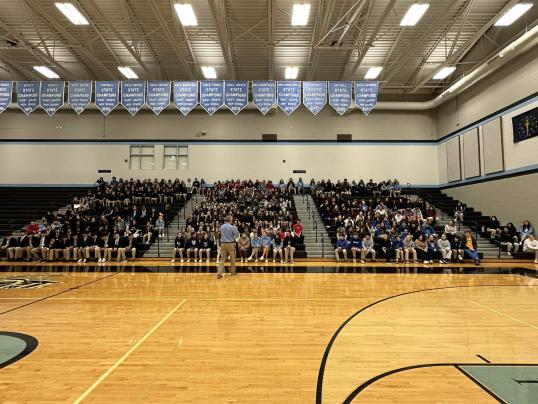 Ah yes, a beautiful Friday off from school. Last Friday gave Saint Joe students a much-deserved chance to rest, relax, and enjoy the springtime weather. But while you weren't in school, a raging horde of seventh graders took a page out of Genghis Khan's book to storm the hallowed halls of Saint Joseph High School.
Perhaps that's being a little dramatic. 
Regardless, last Friday saw a number of partner schools ship over eager seventh graders who will potentially be joining us in for the class of 2028. Our own Student Ambassadors program was right there all morning to show off everything our school has to offer. What exactly do these Ambassadors do all day? Fear not–let's take a walk through what Discover Saint Joe Day looks like for a high schooler.
The day began like any other–a slightly rushed drive from home over to Saint Joe to get there at 8:15 in the morning. However, the first difference (outside of a slightly more empty parking lot) comes when you walk in the cafeteria. You'll see ambassadors milling about, of course, and most importantly, boxes of Martin's donuts ready for eating. Personally, I prefer the maple flavored ones. And now I am hungry. Let's move on, shall we?
Buses of students began arriving around 8:45 (or in Saint Joe grade's case, a march). Partner schools from all over the area were represented, from Saint Adalbert's, to Christ the King, and everywhere in between. Yours truly was put with a group from Saint Pius X, who represented one of the largest cohorts of the night. 
We began our day with some homeroom fun with Ms. Fransted, where the group did some icebreakers with Ambassadors, and watched announcements. All the groups then filed into Alumni Gymnasium to hear Principal Kennedy welcome them to school, along with some energetic words from Ms. Flores and Father Augustine. After this, the day really began. 7th graders got the chance to simulate a high school schedule, guided by a couple of ambassadors per group. 
Our group started off with the theology department, and the ever exciting Mr. Kostielney and Ms. Fink. After some…banter with the siblings, the group and some others all met in the chapel to hear some beautiful testimony on how faith has impacted the lives of current Saint Joe students. Following this was Ms. Germann and presentations by the foreign language departments. Most kids start of with spanish in grade school, but the options presented to them was quite exciting. After this, students got to meet with World History Honors teacher Mr. McCarthy, and then Mr. Carrier. Their classes are some of the first ones they'll take as Saint Joe students, so it was a great experience for the day.
It was now lunch time, so students got to experience a typical Saint Joe Friday afternoon lunch–Bruno's Pizza. P.E. was up next, but luckily, 7th graders didn't have to run off their meals. Instead, they got a great walking tour of the athletic facilities, including Father Bly Field, the tunnel, weigh troom, and other key parts of the Saint Joe athletics experience. Finally, we returned back to the room, where 7th graders got to fill out a survey, talk about the day, and get ready for a mini pep rally to close the night.
This pep rally had some extra oomph to it, as it doubled as a state sendoff for members of the Saint Joe indoor track team, who were departing for Indiana University that afternoon. Seventh graders got to cheer on their (hopefully) future team, along with the always-exciting Saint Joe drumline and some volunteer cheerleaders. The rally really ended things off on a high note, and the middle schoolers all took once more to their buses and headed back to their schools.
Overall, Discover Saint Joe Day was a rousing success, as always. My group of students was legitimately excited to be in the school, and learn new things about the high school experience. I highly recommend you join up with Student Ambassadors next year to take part in this wonderful morning–even if you miss some of a day off of school.