Saint Joseph Girls Lacrosse Season Update
The Saint Joe Girl's Lacrosse team's season is now in full swing. They started it off with a win against the South Bend Bears 13-2 on Friday 3/17. Their next game was Wednesday 3/22 against Elkhart which was another win 13-0. The girls continue to discover their groove more and more each day. This is through going over their plays, running as a team, having pasta dinners, and team bonding.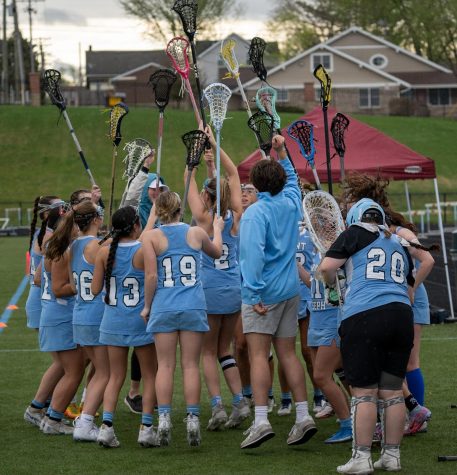 Their first tournament was at Heritage Christan High School in Indianapolis on 3/25. The first game was against Heritage Christian which was a tough loss for these girls. They stayed ahead the entire game until the last 5 minutes when Heritage Christian was able to catch a lead with an end score of  9-11. The next game was against Lawrence North which was a swift win with a score of 17-3.
Culver on Thursday 4/3 was a rough non-conference loss for the Lady Indians. The Lady Eagles were able to transition the ball down the field and place their shots which gave them a major lead from the start. Although with Culver being 2a this game did not hurt our record.
With a doubleheader at home Sunday 4/16 against Homestead and Lafayette Harrison. Homestead was an 11-5 win. It was a fairly aggressive game but the Lady Indians were able to keep their lead throughout the entire game. Their second game against Lafayette Harrison was a very high-scoring game with a final score of 19-2. They were able to give many girls options to play other positions and run all of our plays.
They next played Northridge Monday 4/17 which is one of their biggest rivals. The Indians lead the game till halfway through the second quarter when the Raiders tied it up 4-4. The game ended up going into overtime with a game-winning goal by Kate O'Shaughnessy.
Munster was their most recent opponent with a game on Wednesday 4/19. The Mustangs started strong in the first half with 8 goals to the Indians with 5 goals. In the second half, the Saint Joe girls left the Mustangs scoreless with a final score of 10-8.
With another doubleheader at home on Saturday 4/22, the girls are eager to continue their winning streak and keep their record strong.
As of 4/6, the girl's team has been 1st in the 1a sectional which has not happened in a few seasons. Coach Broadwick couldn't be prouder of her girls and the reflection of their hard work shown on the field. If they continue their winning streak they will stay 1st and get a first-round by in sectionals.
Make sure to support the girl's lacrosse team on an amazing beginning to their season!