Dungeons & Dragons: Honor Among Thieves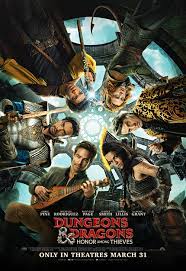 Paramount Pictures' latest blockbuster hit Honor Among Thieves is turning heads for all the right reasons. The fantasy adventure based off of the popular role playing game Dungeons and Dragons has been uniting fans and filmgoers alike. 
For those who don't know, Dungeons and Dragons is a fantasy role playing game where a DM (dungeon master) leads a party of adventurers through a fantasy world. The first edition of the game was released in 1974, and the newest edition will be released in 2024. D&D Campaigns are composed of hijink-filled quests that involve the party trying, and often spectacularly failing at their given tasks. 
Dungeons and Dragons: Honor Among Thieves follows Edgin (Chris Pine), a bard, and a ragtag group he assembles to take down Forge (Hugh Grant), a conniving rogue who has taken control of Neverwinter and kidnapped Edgin's daughter, and Sofina (Daisy Head), a red wizard with nefarious plans. The party is composed of disgraced Barbarian Holga (Michelle Rodriguez), struggling sorcerer Simon (Justice Smith), druid Doric (Sophia Lillis) and paladin Xenk (Regé-Jean Page). 
Every member of the star-studded cast delivered a compelling performance that was true to their respective D&D classes. Pine and Smith's characters showed genuine growth throughout the film and Daisy Head portrayed a genuinely terrifying antagonist. 
From the opening scene, it was apparent that Honor Among Thieves was meant to make audiences laugh, and it delivered. Longtime D&D players can enjoy seeing their favorite spells in action and familiar creatures in battle. Casual moviegoers can enjoy the unmatched humor sprinkled throughout and a sweet but satisfying ending. 
As a whole, Dungeons and Dragons: Honor Among Thieves deserves a 9/10 with very few complaints. Go watch this movie in theaters and on Paramount+.