Senior Spotlight: Hilary Jackson
Senior Hilary Jackson is not only involved in her St. Joe community but the community around her as well.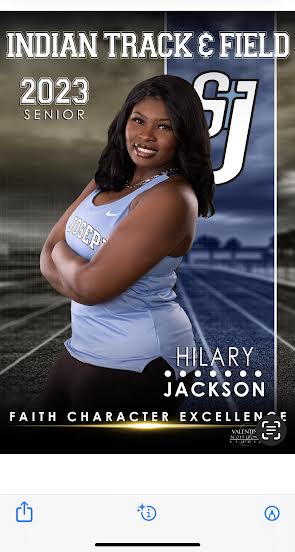 At St. Joe, she's part of the Track team, Unity Council, Student and Liturgical Choir. Outside of St Joe, she volunteers multiple hours at her mother's and Nana's churches. At her mom's church, they had a sock drive where they collected socks to give to people at the homeless shelter. Around thanksgiving season, they put together boxes for families in need in the season of giving. Lastly, knitted hats and mittens are given to the Women's Care Center during the wintertime. At her Nana's church, meals are prepared for families in need  then delivered by Hilary and others from the church. On Saturday's, Hilary helps out at the Kid's club at her mom's church. This is basically a place kids learn about God and are taught about different books in the bible.Jackson continues to be more involved in her church community every week.
In the fall of 2023, Hilary Jackson will be attending Grace College, where she received a full ride to. The main reason she chose to go there was because she wants to deepen her faith and grow spiritually as a person. A contributing factor to her decision was Grace's strong business program and hopes to pursue an entrepreneurial career in the future. Eventually through her gained knowledge, she intends to reimburse her community even more than she already has.
Lastly, her future plans include to hopefully have business running when she gets out of college. Her business will entail producing her own skin/makeup line and her proceeds from this business will go towards helping people with Eczema and Psoriasis. Jackson now looks to graduate from Saint Joe High and move on to the next phase of her life.