South Bend Chocolate Café Review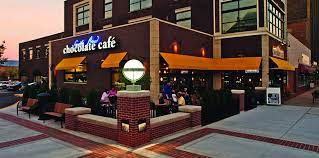 Hey Saint Joe! It's easy to assume that most of you have been to the South Bend Chocolate Café, but we (Miriam, Taryn, and Brian) paid it a visit to check out their specialties for the (sort of) spring season! 
One of the best things about the Chocolate Café is its centrally located spot right in the downtown area of South Bend. Especially for late start days, it is a mere 6-minute drive from Saint Joe, so you can grab a coffee and/or breakfast and be back at school in no time! 
South Bend Chocolate has a large array of different coffee and tea selections, which included a number of specialty drinks for the (sort of) incoming spring season. We tried 3 different drinks, a muffin, and a breakfast sandwich. 
The majority of people in South Bend have been to the South Bend Chocolate Café, so I'm sure most of you know that the atmosphere of the place can differ depending on the time of day. In the morning, it was quite quiet and peaceful, a good spot to relax and enjoy breakfast (maybe before school). Later in the day, it gets a little more lively, but there are still some quieter spots to go and do homework, study, or just hang out with friends. 
Overall, SB Chocolate is well known because it is pretty good. The prices weren't too high for the food and drinks (aside from specialties, but those are, of course, specialties). We gave it a rating of about 8/10. In general, it was a pleasant experience, and we would recommend it!