Heritage Meeting House Review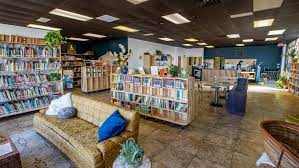 Are you tired of Starbucks (and its expensive prices) and want another place to get coffee? Try Heritage Meeting House! 
This cute little coffee shop is located in Mishawaka, very close to Bethel University's campus. They offer a wide variety of different coffees, teas, and also food items. A couple of things that we (Miriam and Taryn) particularly enjoyed were their chocolate croissants and their bagels. 
One interesting aspect of the Heritage Meeting House was that there is also a small library located within the shop! In the above picture, you can see the large supply of books that they offer. 
Sticking to the theme of books, the specialty coffee drinks available are all named after and inspired by famous and/or significant authors. For example, a drink that I enjoyed was called "The Shakespeare". 
In addition to the food, drinks, and books, Heritage Coffee House also sells a number of different products from a variety of sellers, including jewelry, tea bags, pottery, and more! 
Overall, the vibe and the atmosphere of the place were very nice. It was pretty quiet and there were a lot of couches, tables, and chairs where you could do homework, study, or just hang out by yourself or with friends. There was also a wall of plants, and the slightly dimmer lighting gave it a nice ambiance. The food and drinks were delicious without being overly expensive. It is a little far from Saint Joe (not the best for late start days) but it is still pretty close to South Bend. Our overall experience was great and we gave it a rating of 9.3/10.  We'd definitely recommend it!