Recap on Boys Indoor State Track Finals
The 2023 Indoor Boys Track team went to Bloomington to compete in the Indoor Track State Finals on March 25th.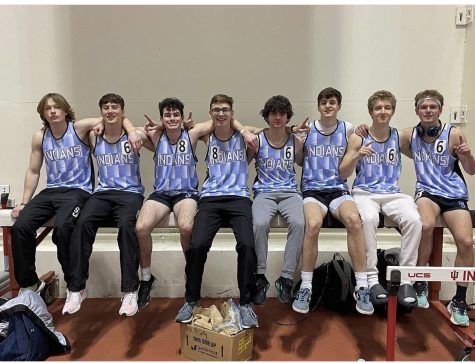 Senior, Ian Joyce competed in the high jump. Looking back at the time in Bloomington, Joyce says, "We really bonded as a team". Joyce's goal for the rest of the season is to beat the school record of 6'4 feet for high jump. 
The 4×400 team of Luke Kaufhold, Gavin Sparke, Lucas Miller and Jackson Risk competed extremely well with a season best of 3:35. They dropped time for the four straight meets. 
The 4×800 team of Carmelo Russo, Gabe Polienacki, Jack Moran, and Lucas Miller also had dropped time in the last four meets and had a season best of 8:23. They finished 14th in the State. 
Junior, Luke Kaufold is All State by finishing eighth in the 60 meter hurdles. 
A goal for the upcoming outdoor track season that is shared among these boys is to advance to outdoor track State Finals and to continue to improve throughout the season.
These boys continue to improve and beat their personal records as well as school records! Look out for these athletes as well as the entire track and field team this season. They are on fire!