Ian Joyce Breaks the High Jump Record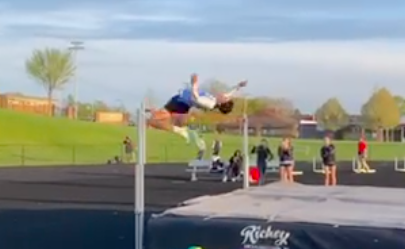 On Friday, April 28, 2023, Ian Joyce did something no other student did in Saint Joseph High School history. Ian Joyce broke the school's high jump record of 6'4″ by jumping a stellar 6'5″! Ian began high jumping his junior year, meaning that he broke the record a year after he began. Ian's hard work and dedication to high jumping allowed him to drastically improve in such a short time.
Ian broke the school record that was set in 1977 and tied twice in 2007. This again speaks to Ian's skills since he did this in one year instead of four, which most student athletes do.
After the meet, Ian Joyce said, "I can get so much higher." This statement is more than true. In the record breaking video, Joyce's back cleared the bar by three to four inches, but it was his feet that were close to hitting. If Ian can just work on his form, he has the capabilities to clear much higher heights. Joyce said that it was "only a matter of time" until he breaks the record again.
Ian said that he was offered a spot as a walk-on if he kept improving at the University of Notre Dame. This opportunity is one that is being considered by Ian, and the best of luck should be wished to him!