Movie Suggestion: Just Mercy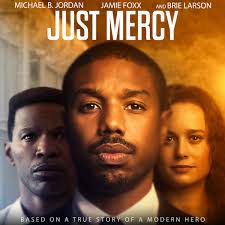 I have recently watched the movie Just Mercy in one of my classes and am reading the book it is based off of for another class. After devouring these works, I feel compelled to suggest them.
Author Bryan Stevenson is an American lawyer, social justice activist, law professor at New York University of law, and the founder and director of the Equal Justice Initiative. He wrote Just Mercy from real-life events that happened to him when he was at the start of his career as a lawyer. The movie follows the same idea as the book, though only focusing on one of two cases the book talks about.
Walter McMillian, known as Johnny D to his friends and family, was a black man sentenced to death for the murder of white teenage girl Ronda Morrison in Monroeville, Alabama in 1988. Despite no undeniable proof such as DNA, footprints, camera footage, et., Walter was placed in a cell merely because one man stated he had seen him standing over Ronda in the place she died. In reality, Walter was at home with all his family, miles away from the scene, fixing a car that did not even have an engine inside it. Despite countless witnesses to support his alibi, the word of a man with no actual evidence and a contradictory statement was believed over Walter's. This is where Bryan comes in. Like Johnny D, he is also a black man and he grows tired of seeing his people unjustly placed behind bars. Just Mercy is the story of a lawyer fighting for justice in a racist society that's unwilling to change its ways and would rather see an innocent black man behind bars rather than the actual killer.
A frustrating, engrossing, and moving film where audience members learn that all we ever need sometimes is just a little bit of mercy.
Actors: Michael B. Jordan, Jamie Foxx, Brie Larson
Duration: 2h 16m
Publication: 2019
Where to watch: Apple TV, Amazon Video, Google Play Movies, YouTube, Microsoft Store, DIRECTV, AMC on Demand, Redbox, Vudu