Saint Joseph Baseball Takes on the Month of May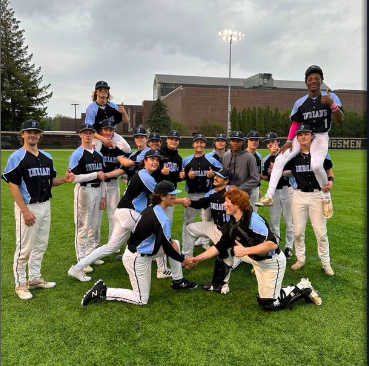 The Saint Joseph baseball team has been up and down this season with a record of 10-7-1. The Indians start off the month of May well with a record of 3-1 with some big wins. In the first week of May, the team played Riley, Niles, and Jimtown over the span of three days.
On Tuesday, May 2, they faced Riley in their first game of the three game block and took care of business winning over Riley 16-0. The following day, the Indians took on Niles on Senior night. It was a tough fought battle for the seniors and the team securing a win over Niles 3-2. Saint Joe recognized Liam Lamont, Axel Barrera, Trey Place, Jay Thomas, and Zac Stawski as seniors leading this team. For the third straight day, baseball took on Jimtown which put them into a tiring position. Unfortunately, they fell to Jimtown 1-5 putting their record for the week at 2-1.
On Monday night, May 8 the Indians faced a big opponent, Penn. Penn were favorites, after winning the NIC and the 4a State Championship last year. With most of their big faces coming back for this season, Saint Joe knew they had a tough game. Saint Joe came out on top, beating the champions 6-3 in extra innings.
The Indians are looking forward to the rest of May. Next week, they face John Glenn on May 10 and  Fort Wayne Bishop Dwenger on May 13. The following week, the Indians face Elkhart and Northwood on May 15 and May 19. To wrap up the last week of May, baseball takes on their final regular season game against Illiana Christian on May 20 looking to secure their regular season off with a winning record. To start playoffs off, the Indians take on South Bend Clay on May 24.
Make sure to keep up with the Saint Joe baseball team and support them during their season.