Renegades Book Review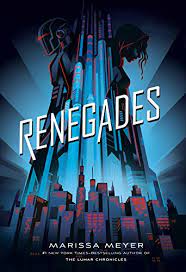 Renegades is a trilogy by author Marissa Meyer about heroes and villains set in a dystopian society. Meyer, who is famous for also writing other dystopian novels like The Lunar Chronicles and Heartless, truly delivers her audience a great trilogy of books with plenty of action, mystery, and a little bit of romance.
In this society, the world is split between people with no special abilities, and prodigies, who can perform an array of superhuman abilities. After overthrowing the villains, the heroes are now the ones running the city and the world, with a plan to keep villains from resurfacing. Nova, a villain or "Renegade," is one of the many villains in hiding after a series of catastrophic events. Just like the other villains, Nova is determined to enact revenge upon the heroes by taking down the heroes from the inside of their own organization.
But problems arise for Nova when she meets Adrian, the son of one of the most popular heroes in the world. But will Nova be able to keep her plans for revenge separate from the feelings she begins to feel for the young hero? Will Nova betray the villains or the heroes?
Personally, I really enjoyed this trilogy because of the action/adventure aspect and because all of the characters are written in depth. Like your traditional superhero and supervillain, each character has a unique personality and way of living. Nova, though more of a villain than a hero, is a very likable character. She's witty, she's smart, she's a great anti-hero. In an attempt to not spoil the story, many of the other characters throughout the series have very clear motives and can either make the reader like them or strongly dislike them.
I liked the concept of the story, because we see the world through the so-called "villains" perspective. Personally, I think it's more fun and interesting when authors choose an unreliable or unusual narrator. Though it has cliche elements, it is nonetheless very entertaining and a fantastic read for anyone looking for something easy and quick to read.