Remembering Ahmad and Saleem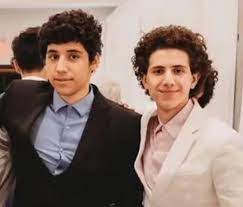 Monday, May 15th marks the one year  anniversary of the Qasem brothers passing. A memorial service will be held on Monday in honor of them. Here's a little background for those who are just now joining our Saint Joe's family and the schedule for that day.
Logistically, Monday will be a Blue Day but Flex will take place at the end of the day, so that our memorial service can be held. The Class of 2022 will return to campus for this service in honor of their classmate, Ahmad. In addition, the faculty will be instituting two new awards in the Qasem brothers' honor. The service will begin at 2:30pm, and anyone who wants to attend from outside the Saint Joe community are welcome. 
The Qasem brothers' story tells us about the love of two brothers that stretches even unto death. On Sunday, May 15th, 2022 while enjoying a day at the beach with their friends. Saleem Qasem found himself struggling in the Lake Michigan undertow. Ahmad, embodying his duty as the good older brother, attempted to rescue him. That day, both brothers lost their lives, and their deaths had a substantial impact on the Saint Joe community. Particularly affected were the track team, football team, Class of 2022 and the current Junior class. The next day, Monday May 16th, the Saint Joe community was in mourning. Students had lost their classmates, athletes had lost their teammates, and teachers had lost students. Because of this awful event, emotional support and counseling was readily available to students and the Qasem family.
Despite the sadness of that day, Saleem and Ahmad are being vibrantly remembered through their family, their friends , and through the Saint Joe community. Saint Joe will honor the Qasem brothers by creating the "Ahmad Qasem: No Greater Love"  and the "Salem Qasem: Credible Witness" awards. The Ahmad award will be given to a graduating senior each year. Ahmad's award will be given each year in memory of the self sacrificing, fraternal love that Ahmad showed for his younger brother. Ahmad was a member of the Project Lead the Way and planned to go into the medical field serving and helping others through his practice. Ahmad models for us the virtue of magnanimity and how to love your family unconditionally, no matter the cost. The award in honor of Saleem will be given to one underclassmen each year in memory of Saleem's quiet and steady witness. He participated in several sports, clubs and activities throughout his two years at Saint Joe. Saleem modeled spiritual virtue,  physical discipline, humility, and genuine fraternity. With his contagious smile and gentle spirit, he could light up any room he walked into. This award will be given to someone who embodies the Saint Joe value of "God Calls – We Answer". 
Both brothers were outstanding men in faith, morals, and witness, but most of all, their truly undying love for their family and friends. We remember Saleem and Ahmad on Monday, May 15th – two beautiful souls that have certainly left their mark on the world.