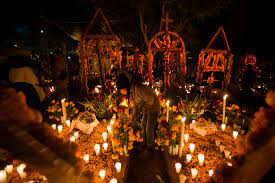 When we think about fall, we immediately think about Halloween, but actually, there are two holidays at the end of autumn. There's Halloween first, and then only two days after is Day of the Dead.
Día de los Muertos is a day to commemorate, remember and spiritually reunite with the deceased. There are actually two other holiday's along with Día de los Muertos, Dí de los Angelitos (Day of the Little Angels) and Día de los Difuntos (Day of the Adults).
People usually get together and get dressed up in Calavera painted faces (skeletons) and have parades in the streets. Cemetery visits on this day are common, as some families create ofrendas (offerings) to honor their departed family members or friends that have passed. These altars are usually decorated with bright yellow marigold flowers, photos of their departed loved ones, and the favorites foods and drinks of the one being honored.
People believe that the offerings encourage the departed to visit from the land of the dead, as their souls hear their prayers, smell their foods, and join in on the celebration. Día de los Muertos is a special holiday because instead of mourning the dead, it's a day for celebrating life and death.