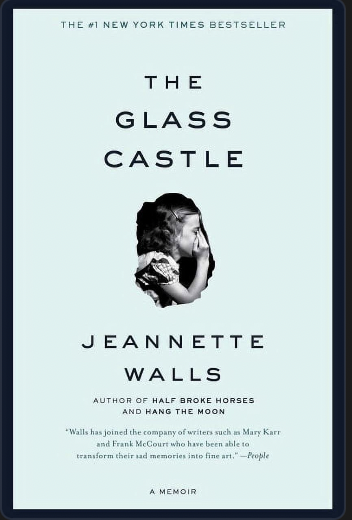 The Glass Castle by Jeanette Walls takes you on an emotional roller coaster with the life story of Jeanette Walls and her family. The novel emphasizes the fault of the parents and their parenting skills. With a rough start the first chapter starts off with Jeanette boiling hot dogs at 3 years old without any supervision. When reading this story, it just makes you want to take action to help Jeanette and her siblings.
Throughout the whole novel Jeanette and her siblings Lori, Brian and Maureen go through rough times with their parents. Their Parents Rex and Rose Mary fight a lot but stay together for the kids sake. It is a story about her childhood moving from state to state to escape people that her dad owes debts to, and how her family adapted to these moves and problems along the way. Her father throughout the story is shown as abusive towards his family, and he struggles with his battle with alcohol. Her mother is an extremely free spirit with not a care in the world, because of the way her parents are, makes her and her siblings grow stronger and more independent in their lives not having to rely on their parents. Although her parents weren't there for her, she still forgives them, and this is how the theme of forgiveness comes in because after all her family has done she forgives them.
The details that Jeanette uses throughout the story and imagery really bring the story to life. Her use of words and details keeps the readers entertained and helps make the story more interesting.  This moving memoir has received many awards including the Christopher Award, the American Library Association's Alex Award, and the Books for Better Learning Award. Overall this book was an amazing read and gives people who have struggled hope that someday there will be a better future for them.