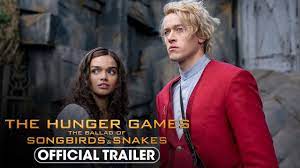 After a successful series of books and movies that encompass the entirety of The Hunger Games series, a prequel is set to be released which will finally answer all the fans' most pressing questions. The Hunger Games: Mockingjay Part 2 was the final movie in the chronological succession of the series, but the origins of how the dystopian world came to be left some big questions unanswered.
In The Hunger Games: The Ballad of Songbirds and Snakes, the story takes a step back to see the course of events that led to the creation of the Hunger Games themselves and the society as a whole separated into districts. The movie will center in large part around the character of who would come to be President Snow, and his race to defeat his trainee, Lucy Gray Baird in a political battle for control of Panem.
Additional storylines look to uncover the mysterious past of Katniss' mother and the shocking disappearance of her father after his death in a coal mining accident. Was it actually an accident, or was the death of her father a pre-meditated attack by the leaders of Panem?
District 12 also plays a major part in the entire The Hunger Games series, and it is no different in the upcoming prequel as Lucy Gray Baird is the female tribute from District 12, and she ends up having quite the successful run in the 10th annual Hunger Games. Lucy Gray's connection to District 12 was in large part a reason why the District ended up having a similar fate to District 13 because Katniss drew striking parallels to her predecessor (Lucy).
Overall, this movie looks to be a must-watch for fans of The Hunger Games series, and an exciting movie to watch overall. Look for it in theaters starting November 17.