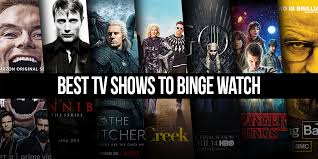 Do you find yourself having lots a free time? You get all you need to get done, done? Find yourself in a mood to just lay in bed and watch a show or movies a lot more? If so, then here are some of the top, trending and popular tv shows you can watch on Netflix today.
One show I can definitely say always seems to pop up is Good Girls. Good Girls is a show that's about three suburban moms, two sisters, Beth and Annie, alongside their friend Ruby who become fed up with playing the rules and not getting the respect they deserve, so they band together to take control of their lives — by holding up a local grocery store. Beth's the perfect wife and mother, but her used-car-dealing, cheating husband has sent her family into financial ruin. Ruby is happily married to a policeman but can't afford the medical bills and experimental drugs to help her daughter. Finally, Annie, a single mom, is caught in a nasty custody battle with her ex. In desperate need of money, the women plan the heist expecting to ease their financial burdens. But new to the game of crime, they get pulled in deeper than they ever imagined — and the only way out of this will be together.
Another show that finds its way to stay popular and relevant is Gilmore Girls. Gilmore Girls is set in a storybook Connecticut town populated by a mix of dreamers, artist and everyday folk. This multigenerational drama about family and friendship centers around Lorelai Gilmore and her daughter, Rory. Lorelai owns the town's bed-and-breakfast, the Dragonfly Inn, with best friend/chef Sookie, and contends with weekly dinners with eccentric, well-off parents Richard and Emily Gilmore (who always have something to say about their daughter's life). After high school, Rory attends Yale University but frequently returns to Stars Hollow to visit her mom.
Another show that I've heard many good things about is Jane the Virgin. This show is about the daughter of a teen mom, Jane Villanueva, who grew up determined not to repeat her mom's mistakes. At 23, her life is on track; Jane is studying to be a teacher and engaged to a handsome detective who supports her decision to remain a virgin until marriage. Then a routine clinical visit flips her life upside down. After being inseminated by a specimen meant for a patient in the room next to her, now-pregnant Jane is in a situation made only more insane when she learns that the sperm donor is her boss, Rafael. As her meticulously planned life gets more like the telenovelas she loves, she faces a lot of complicated decisions about where to go from here.
Now if you like that scary intense romance kind of entertainment, then I definitely recommend You. You is a show about a guy who goes to extreme lengths for love. Before watching this show you might consider what you would do for love, and what you consider to be extreme lengths. For Joe, an intense young man who frequently becomes close with beautiful, smart women, these questions are put to the test. A charming yet awkward crush becomes something more sinister when love turns into obsession for Joe. Using social media and the internet, he uses every tool at his disposal to becomes close to the women of his dreams, even going so far as to remove any obstacle — including people — that stands in his way of getting them.
These are some amazing shows, but if none of them are your cup of tea, just go to Netflix and browse for other amazing shows.