News Interview: Cam'Ron Frost's Cheer Story
During my second year of cheerleading, ABC57 news reached out to me and asked if I'd liked to be apart of a segment regarding me coming the only high school male cheerleader in the area. I immediately accepted this invitation. My family, peers, coaches, and administrators at Saint Joe were just as excited about this just as I was.
My main goal for the interview was to raise awareness for the inclusivity concerning male cheerleaders in our area. I anticipated on encouraging support and recognition for my self and any who may do as well in the future. This not only shed light on saint joe's theme of progressiveness and involvement, but the development of south bend as well.
I owe absolute thanks to my coaches and the athletic office for allowing me to become a male cheerleader at Saint Joe
.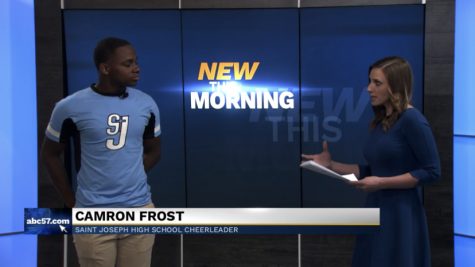 photo: Abc57 news