Sleepyhead (Cavetown) Album Review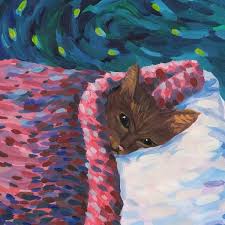 Through this tumultuous year of 2020, it is comforting to be able to receive new music from our favorite artists, especially those like bedroom pop artist Cavetown.
For those of you unfamiliar with Cavetown and the up and coming genre of bedroom pop, let's get a little bit of background. Bedroom pop is a wide ranging genre of music that is created by an artist in the comfort of their own home. With access to cheaper and better equipment, young artists have been able to create near-studio quality music while connecting directly with their audiences through Youtube and Soundcloud.
Though these artists tend to skew female, one male bedroom artist rising in popularity is Cavetown, aka Robbin Skinner. Robin Skinner started music back in 2013 by singing covers of songs and posting them to Youtube in an effort to escape feeling trapped in his parents' home. In 1029, he signed with Spire and released a single Telescope. In October 2019, he kicked off a four month tour consisting of 31 venues int he United States and 15 venues in the United Kingdom. In 2020, he released his first album under his new contract, Sleepyhead.
Sleepyhead consists of 11 songs that are a total of 38 minutes long. The first track on this album, "Sweet Tooth", is an evolution in Robin's typical quiet indie singer-songwriter vibe. He takes a chance to rock out with a full band while still maintaining his filler-less lyrics. Later in the album, we see the Cavetown we fell in love with. In "Trying", we hear a break-up track that is progressive when compared to the typical break-up songs we hear from pop artists. Instead of singing that he wants his partner back or that he has moved on, Robin take this song to sit and stew in the raw emotions of the break-up itself. "February 14" and "Pyjama Pants" take after this emotional vulnerability by exploring the ups and downs felt in most romantic relationships.
The final two songs of this album are where we see the most emotion from Robin. Where "I Miss My Mum" seems like a rock out sibling to his earlier track "Sweet Tooth", make sure not to dismiss the lyrics as filler or fluff. Nestled in the middle of this rock song, we hear Robin sing, "Keep wakin' up. With this weight on my chest. It's just called bein' a person. I never planned for this." Robin uses this song to acknowledge that some people, including himself, struggle to just exist in this world. As the album closer, "Empty Bed" takes the cake for most emotional track on Sleepyhead. He takes the last three and a half minutes of his album to emphasize the importance of taking care of ourselves and our loved ones during times of mental struggle. If this song does not encompass the feelings felt by the majority of us in 2020, I don't know what does.
So if you find yourself inside in these upcoming months due to cold weather or Covid-19, brew a cup of tea, snuggle up on your couch, and spend 38 minutes listening to the emotional rollercoaster album that is Sleepyhead by Cavetown.