99 Overall (Since99) Album Review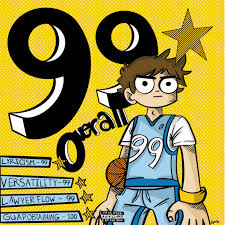 Jade Collins, better known as Since99, burst onto the underground hip-hop scene earlier this year in late May with his collaboration with Basednas on "Immaculate."
Since99 went viral on twitter due to the his unlikely appearance and delivery on the track, which is something that has come to define him as an artist. Two months later, on July 24, he released his second album titled 99 Overall, which consists of 14 tracks and spans a brief 31 minutes. The album can be found on streaming platforms such as Spotify and SoundCloud, and the ever popular video sharing platform YouTube.
This album furthers 99's unique and signature style of witty, comedic bars, obscure references, versatile flows, and crude, clear delivery over repetitive hip-hop beats. These aspects of the rapper's style pair with his caucasian complexion, making for an unexpected fledgling hip-hop artist, which adds to the appeal of his music.
Since99 displays his versatility on this album as he tackles his native Michigan's recognizable flow on "Dummy." The Michigan flow has been made popular recently by Detroit artists Teejayx6 and Kasher Quon, among others. He displays his versatility further on the quasi love song "Simp Story," and even further through his more edited vocals on tracks including "Halle Berry" and "Granddaddy Purp." Along with his versatile flows, 99 continues his witty lyrics on his second album, which can be found littered throughout every track. 
Production on this album is nothing special, with fairly unique melodies over hard-hitting, repetitive percussion. Although this is the nature of modern hip-hop, this album's production is far from ambitious, with the exception of a few melodies. However, this is the nature of 99's style; he brings life to tracks with his clever lyrics, interesting flows, and most of all his unique delivery. Since99 has carved his own niche within the underground hip-hop scene, and this album certainly delivers if one desires his specific style.
Overall, this project is a positive step forward in 99's discography, as well as being an enjoyable, quick listen. I would rate this album a 7 out of 10, as it simply delivers on the expected style that 99 has come to create for himself. I would highly recommend that hip-hop fans, and all music fans alike, give the album a listen.
NOTE: The author would like to thank Liam Kempf for his expert input on Since99's most recent album 99 Overall.