Ben's Show Review: Chappelle's Show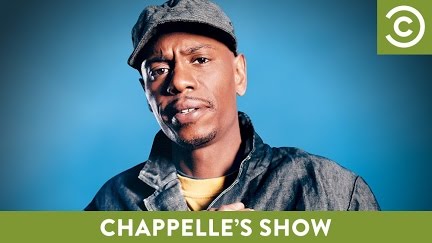 Since the 1990s, comedian Dave Chappelle has widely been seen as one of the funniest figures in American society. So, when he decided to create his own show- "Chappelle's Show"- it was no surprise when it won instant success and accolades.
Chappelle's Show, which aired from early 2003 to mid 2006, features the stand-up performances, as well as the hilarious skits, from the mind of host Dave Chappelle. The monologue-like introduction that he provides to a live audience contains several punch lines and stories of relevant events or people. The skits, however, are based off of the purely wild imagination of the comedian, and can have characters or plots that only so many people can fully comprehend. Together, these aspects create an insanely entertaining experience for the live and at-home audiences, and showcase the potential for Dave Chappelle's comedy.
However, while Chappelle's Show accumulated success and high-praise from comedy lovers, it received an equal amount of controversy and backlash from more sympathetic and well-rounded viewers. A considerable portion of Chappelle's content addresses the subjects of race and gender from an "edgier" approach, leading to several viewers becoming offended and detracted. If you believe in more rational and un-extreme entertainment, and prefer to have unoffensive content in your shows, I would recommend to not watch Chappelle's Show, as it can be seen as rudely offensive and disrespectful towards certain demographics.
Nevertheless, I do enjoy watching this show and the several skits and punch lines that come with it. While I do believe that some jokes should not be aired, I find his content to be funny, and in a way see that as a pro that outweighs the cons. One of my favorite aspects of Chappelle's Show are the various characters that appear in the skits, such as Rick James and Silky Johnson. These figures reveal the creativity that comedians have, and overall makes for a hilarious viewing experience.
Overall, this show gets an 8.5/10 in my book. I find every episode to be hilarious, and truly entertaining. However, with the controversy and heat that the show has received over time, I believe that it should lose some credibility or success. Nevertheless, I think that Chappelle's Show addresses specific audiences, and caters to the perspective of more accepting and tolerant comedy viewers. In sum, Chappelle's Show makes for a hilarious time, and the genuine comedy that appears in the show outweighs the "edginess" that stems from the content, in my honest opinion.
Until November 24th of this year, Chappelle's Show was featured on Netflix's streaming service. However, after discussion, it was taken down. You can now watch the show on other platforms, such as HBO Max, Comedy Central, Pluto TV (free with ads) and can see specific skits from the show on YouTube.