Saint Joe Soccer Stars Receive All-State Recognition
The Indiana Soccer Coaches Association announced the 2020 ISCA Boys and Girls All-State Teams Announced.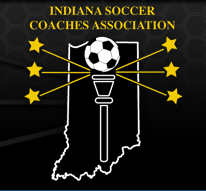 The Indiana Soccer Coaches Association released the 2020 ISCA Girls and Boys All-State Teams. Two of our  players on the girls soccer team made the 1st Team All-State. The two players were the captains of our girls team, Natalie Moore and Georgia Place. They were the teams forwards who scored the majority of the team's goals. Natalie and Georgia have both played soccer since they were around three years old. They have continued playing ever since and grew a love for the game of soccer. Natalie started playing for the Indy Fire Juniors Club in Indianapolis when she was in 7th grade. Indy Fire is a very talented and elite club. Through playing at Indy Fire Natalie has had opportunities to play all over the country against the best competition. She received multiple offers from colleges, but has decided to play at DePaul University next year. Natalie officially signed to play with DePaul on Wednesday, November 11th. Georgia played for the Indiana Invaders which is located in South Bend until her freshman year of high school. Starting her freshman year of high school she also played for the Indy Fire Juniors Club. Natalie and Georgia are two dedicated players that spend their weekday nights and weekends driving to Indianapolis to practice or play games. Georgia is a very talented player, and is hoping to play in college. The Coronavirus has affected her opportunities to play at college camps and play in front of coaches. 
One of our girl players also received ISCA All-State Honorable Mention. This player was a key midfielder for the team and she is Sarah Hiestand. Even though Sarah was not one of the team's captains, she was a very important leader on the team. Sarah was also looked upon as a role model as well as Natalie and Georgia. The team could always count on Natalie, Georgia, and Sarah for working as hard as they could while also pushing the rest of the team to do the best they could. Sarah also started playing soccer at a young age as well as other sports such as basketball. As well as playing soccer for Saint Joe, Sarah has also played basketball and ran track. Sarah is a very-well rounded athlete, and is very talented in all three sports. Although, her favorite is soccer. Sarah played for Jr. Irish Soccer Club in South Bend when she moved to the area in 4th grade. She continued playing for Jr. Irish through grade school and high school. She will play her last season for them this upcoming spring. 
Two of our boys also received ISCA All-State Honorable Mentions. These players were the captains of our boy's team. They are Kyle Smith and Kyle Tupper. They both have played on the varsity team since their freshman years. Smith was a key forward for the team during his four years, and Tupper was the team's starting goalie his junior and senior year. Like Sarah, Tupper is very athletic. He also enjoys playing hockey for Saint Joe in the winter, and baseball in the spring. Tupper also officially signed Wednesday, November 11th to play baseball at Purdue University Northwest for the next four years! 
Congratulate Natalie, Georgia, Sarah, Kyle Smith, and Kyle Tupper if you see them!