The Grind Never Stops: Liam Fuller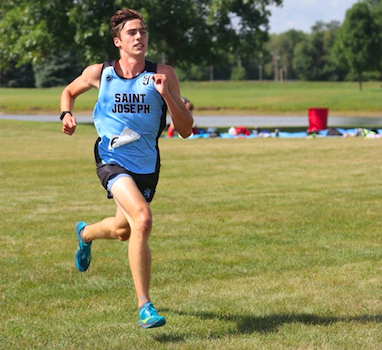 Zach Taylor, Staff Writer, Video Editor
December 8, 2020
While other students may be working on homework or relaxing after school, Senior Liam Fuller finds himself training on the track at the old St. Joe High School building. The only thoughts on his mind: dominating the entire competition during track season.
For the past two years that he has been at St. Joe, Liam has been a valuable asset to the track team, both as a scorer and a positive influence on the other athletes. His ability to blend fun and fierce dedication provides an inspiration for others. And there is no greater example of his dedication than the work he puts in each and every day during the off season. Ever since last year's season was abruptly cancelled, Liam has been hard at work and making the best of every opportunity presented to him. Over the summer, he practiced with the cross country runners as one of the senior leaders which continued through the cross country season, earning him recognition and an award for his team spirit. Now, he trains solo for the upcoming track season.
Though the likelihood of spring sports is still uncertain, Liam's determination remains unfazed. His current goals for the season are to break 50 seconds in the 400 meter and 2 minutes in the 800 meter. Both are quite lofty goals but Liam's determination and work ethic are sure to come out on top.
When asked about why he trains so hard in the off season, he said, "You can't get successful if you sit on your butt. You can't expect it to come to you, you gotta work for it." These are the words by which Liam lives and inspires others.
Beyond his work ethic, Liam has gained him the respect of his fellow athletes because he is one of the most positive and friendly people on the team. All his teammates agree that he brings so much enthusiasm to each and every practice and meet, and he supports and encourages those around him through all the setbacks and victories, no matter how big or small. Liam's grit and spunk will be missed by all his teammates as he continues on past high school. Liam plans to continue running during college, and join the track team as a walk-on, though he has not decided on which school yet.