Remembering Jeff Lafferty
Last week not only the hockey community but also the entire South Bend area received some awful news. The death of local coach Jeff Lafferty. Jeff had been battling leukemia and couldn't find a marrow donor to match his own. "This became a growing problem with me being of mixed race," said Lafferty from his appearance on WNDU in 2010. Jeff  fought cancer for 15 years and he never let it beat him. Jeff  also suffered kindney failure in September and on November 14th he tested positive for coronavirus, which was not the cause of his death but didn't help his cause. Jeff Lafferty died on November 18th to a heart attack. He leaves behind a wife and three children one of which plays for the Valpo Highschool Hockey team. Jeff was a coach, a manager, a score keeper, a time keeper, officiated, and manned the public address system at many games. He wasn't just a strong person he was an idol, one to look up too and take his ways. He surrounded himself with hockey and never let anything drag him down. He couldn't stop talking about hockey if you asked him and wanted everyone around him to grow. Rest in peace Jeff Lafferty you will be missed.
On November 20th the Indians hockey team were back on the ice against a big rival, the Penn Kingsmen. Before the game took off, both teams surrounded the face-off circle for a moment of silence to remember our friend Jeff. Then the game took off. The Kingsmen were no match for the Indians early on, Hayden Hebard started the night off with 7 minutes to go in the first period, blasting one into the back of Penn's net. Penn then tied the score and with 1 second left in the first as Karsen Meiszberg scored a much needed short-handed goal. There was no scoring during the second period just lots of back and fourth with great goal tending on both sides. Early on in the third period St. Joe. took off again with two goals scored by Captain Kalvin Kerwin. The first assisted by Hebard with 14 minutes left and the second, a power play goal with 11 minutes left to go in the game. The gas had ran out on the Indians side giving up 2 goals late in the third period but still pulling off a great victory against a big time rivalry.
The hockey was back on the ice the following day against Adams hockey. The Indians had a slow start to this game putting no goals in during the first period but then putting 2 in the second period with 7 minutes to go. Goals were scored by Steven Eckrich and Meiszberg. They ended the period 2-0. Going into the third period the Indians shut down, letting Adams tie the score to go into overtime. During the 3 on 3 OT, Adams prevailed handing the Indians a very tough loss.
Last weekend the Indians were originally scheduled to have a Thanksgiving Tournament which got canceled due to COVID and they rescheduled the Culver game to Saturday which also got canceled. The team practiced during that slot instead.
The Indians hockey is out this week but is back on this Saturday at 7:30 against HSE. The perfect time to get back into action. Stay safe and healthy St. Joe!
About the Writer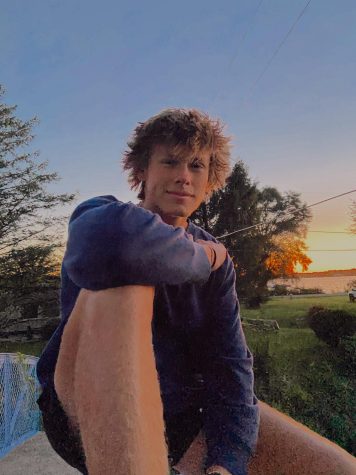 Kalvin Kerwin, Staff Writer
Hey my name is Kalvin Kerwin, I am a senior at Saint Joseph High School. I am very active and athletic, I don't like being still. I play Ice Hockey for...