The resolute rise of Mr. Reynolds
111 miles southeast of Saint Joseph High School lies the town of Ossian, Indiana, a self-described "family-centered" community of roughly 3,700 people and a quintessential symbol of small-town America — the place that A.J. Reynolds calls home. The Saint Joe Social Studies teacher just got back from a Thanksgiving getaway to his hometown–a trip that included family visits (socially-distant, of course), along with a pheasant hunting tradition he's had with his father for 20 years.
"That makes me feel old–and I'm not," Reynolds says. "But I like family traditions." As the fourth generation in a row to grow up in the same house in Ossian, he always knew that his family was well-known there. "I grew up in a town where literally everyone knew who I was," he says.
And now, indeed, everyone at Saint Joe also knows who Mr. Reynolds is. But unlike his famous reputation back home, Reynolds isn't well-known at Saint Joe because of his lineage; instead, the 27-year old energetic educator makes a name for himself by getting involved in the school community through Student Government, Econ Challenge, Quiz Bowl, the Spring Musical, and the the Fall Play–which took place just before Thanksgiving break, but was unlike any other seen before: fully virtual, on Zoom, and in the midst of a pandemic. For a director who is so dedicated to his craft, this presented a challenge to Reynolds, but it also opened a new opportunity to do something different–to do something great.
"It was a huge success," Reynolds said. "It's important because theatre's important. It's important because the theatre program we have at Saint Joe is the largest and most inclusive extracurricular activity that this school has." 
For his students, theatre enables them to remain involved in the school community when in Mode 3, a task that Reynolds takes to heart. "It gives an opportunity to still keep students engaged–which is probably the most important," said the Economics teacher. But for some, this opportunity is the last one.
As many members of the Class of 2021 will lose out on conventional senior experiences like midwinter, pep rallies, and most likely prom, Reynolds recognized that he couldn't let the Fall Play go down the drain; he needed to keep it alive, however it may be. So, he organized. He consulted with Ms. Sarah Leigh Beason, a longtime friend of his and an actress in her own right, who would work with him in making Game of Tiaras a reality. With help from the organization "Broadway on Demand," he did just that, allowing his eldest students to finish strong and show the hard work they've accumulated in their time at Saint Joe. "I have some amazing seniors–Marie Achkar has been in every single theatre production all four years of high school. So to give the opportunity to students like her to have a senior fall play production–that's huge."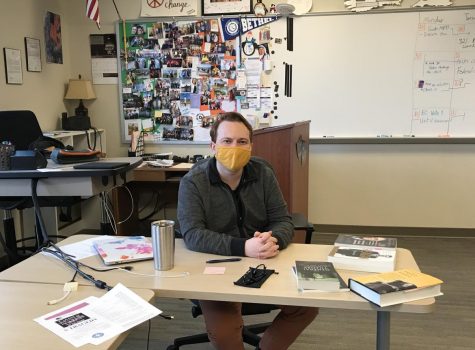 As the Zoom rehearsals and thorough planning of Game of Tiaras have now winded down and with a relaxing trip to Ossian in the books, Reynolds is back in the classroom, although his students are visibly absent from his home base of Room 242. Having gone through virtual teaching in the spring, Mode 3 isn't foreign to the AP Economics and Government teacher. Like his colleagues, he taught virtually for the fourth quarter (roughly nine weeks) of the 19-20 school year; but Reynolds did not enjoy staying at home for so long.
"I didn't like it. I am an extrovert. I like going out. I like hanging out with people. I'm driven in a lot of ways by interaction with people," he says. Anyone who has met Mr. Reynolds can attest to this statement; every room (or Zoom call) he enters is ignited with energy, enthusiasm, and a desire to interact. It's a hallmark of, arguably, the most outgoing teacher at Saint Joseph High School. 
But now, in the remaining weeks of the fall semester, Reynolds says he recognizes the stark differences that exist between a pre-pandemic classroom and a new COVID world of education. "No teacher went through four years of education teaching to teach to a camera on a computer," Reynolds says through his vibrant yellow mask. "I didn't become a teacher so that I could talk into a camera. I became a teacher so I could have interaction with students." He shares a concern that many educators across the country have; according to polling by Forbes Magazine, about 52% of teachers in the U.S. wanted to begin their school year in-person, but with cases surging and a vaccine still unavailable, it might be a while until we reach in-person education.
But Reynolds doesn't hold a pessimistic view regarding the educational aspect of Mode 3; in fact, he says it might be better than what we had before. "Learning over zoom is more challenging, but Mode 2 is impossible–it was very sluggish," he says as he overlooks South Bend from his desk in room 242. "Mode 3 is good in the sense that everyone is on the same page. . . [Mode 3] allows for collective learning. . . as a teacher I can set a pace and make sure everyone is still learning."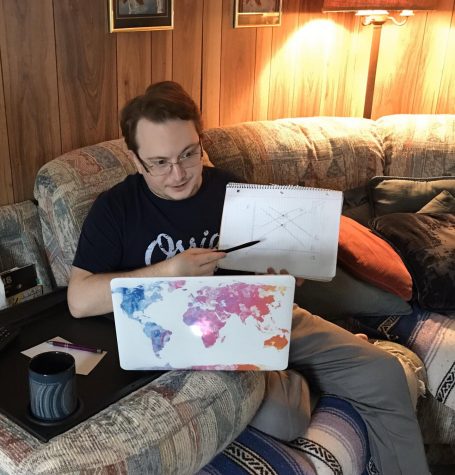 But regardless as to whether his students are in the classroom or not, he repeats a motto at the end of class that he's had ever since he started at Saint Joe–one that his students have come to know by heart. Taped onto the door of his room, it reads, "Be kind to yourselves, be kind to others, and don't do drugs." What can come across as just a platitude repeated at the end of every class is a statement that holds real value to Reynolds as it derives from personal experience. When I asked about what it meant to him, he said, "The most important thing that I've taken away from experience is that kindness starts with yourself. There's a lot of people that view negative thoughts towards themselves or negative attitudes towards their abilities–I was one of them." 
But this phrase he passionately asserts at the end of class may be something more–something his students can strive for and apply to their daily lives. "There's something to be said for staying in a clear state of mind," he says, sitting in front of a wall packed with family pictures. "Don't get me wrong, I love a good glass of wine. But I think keeping a sober mind in understanding the world around you is important. There's a lot of people trying to escape right now, but I don't think there would be many people trying to escape if we were kind to ourselves and kind to others."
Reynolds holds a unique life story, one that has now led the Ossian Native to become a high school teacher, something he had never envisioned himself doing. But as a 14-year old entering high school, he couldn't see himself going to college; the academics, coupled with learning issues, made the naturally-talented actor wary of such a leap forward. As a result, he focused on culinary school while in high school, a place where he could manifest his creativity and energy without the confines of a classroom and a dictating academic environment. "I fell in love with it," Reynolds says. "Cooking is an interesting balance in that it's creative, but it's also logical in that 'here's certain flavors that work together' or 'here's how you cook something specifically to get it to be X.' So it was the perfect combination for me because I have a creative side, but I also have a logical side, so it really just fit." 
This passion, coupled with success in local cooking competitions, led Reynolds to win a scholarship to attend Sullivan University for a 2 year program in culinary school and hospitality. Though the offer was enticing, it took his ambitions too far. "I realized that I liked cooking, but I didn't like it enough to make it a career. I couldn't see myself doing that for the rest of my life."
Instead, as Reynolds was finishing up his senior year of high school, he received a scholarship offer to Bethel University for acting. "That planted that seed in my brain where it's like 'oh, well, I like this, I'm kinda good at it, he [a Bethel representative who recruited him] thinks I'm good enough that he's asking me to audition for something,'" Reynolds says. So, he took the offer. But what began as an education instigated by a talent of acting turned to a different direction. "I knew from the beginning that theatre wasn't going to be my career. I saw that as a means to an end," the Saint Joe Teacher says. "So I went to Bethel and said, 'you know what? I think I'm going to be a teacher. I don't know about this but I'll try it.'"
Being the outgoing and passionate person that he is, Reynolds fit in well at the University and exhibited success. By April of senior year, he was student body president and on his way to graduating with a 4.0 GPA when he got a phone call from then Saint Joe teacher Mrs. Alter (who left SJ in 2019), asking if he would be able to take her place for nine weeks as she was about to give birth. Reynolds was interested; having just left Clay High School as a teacher because of paperwork issues, he wanted to be back in the classroom. But a part of him thought otherwise; having fulfilled all his college credits, he had no classes left for the last four weeks of the semester, providing him a freedom to do whatever he wanted until graduation day. "I was just thinking of coasting for the last four weeks," he said. "I thought, 'maybe I can just spend these four weeks hanging out in the dorm room, stay up late, go to some parties, give a speech on graduation and call it a good day.'" But he didn't.
After packing up from Clay High School on a Friday, he said goodbye to his students, changed into a suit, and drove 10 minutes south to Saint Joe where he would be interviewed by Mrs. Richter and Mrs. Gibbs, the Principal and Assistant Principal, respectively, at the time. The interview went well and the next day he had a phone interview at noon with Social Studies Chair Mr. McCarthy. By 1:00 the same day, he was offered the job–and he said yes. "It's crazy," Reynolds remarks. "No one else leaves a job on a Friday and starts somewhere else on a Monday. . . but I can honestly say that it's probably one of the most impactful decisions I've ever made."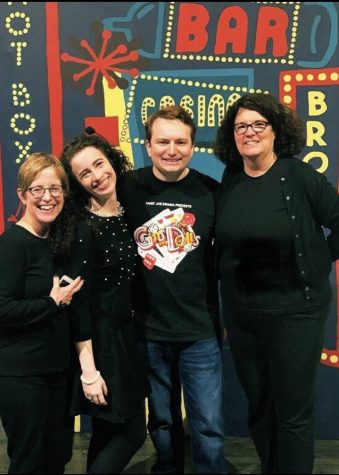 Now, nearly five years later, Mr. Reynolds is thriving at Saint Joe. Settled in room 242 and a fresh resident at his new apartment in Granger, the exuberant social studies teacher has a lot on his plate, with the upcoming Spring Musical being among them. This theatrical production, like the fall play, will be incredibly unique; it will be performed in the main gym of Saint Joseph High School, something never done before, but a task that Reynolds looks forward to facing head-on. "There's gonna be a lot of challenges with that," he said, his orange pants shining under the bright lights of his classroom. "But I have an amazing team. I have very passionate and creative co-directors in Mrs. O'Brien and Ms. Beason and we all know why we're doing it. We know it's important to Saint Joe–it's a thing you don't touch." This shared passion among the directors is what, in part, makes this activity so inclusive and the largest extracurricular at Saint Joe, with 14% of the school population taking part. "There is no JV or Varsity team–and that's the beautiful thing about the musical. You're not freshman, JV, or Varsity–you're in the musical," Reynolds says. "We have an ability to showcase freshmen through seniors and people who can't dance to people who have been dancing and singing their entire lives." 
Outside of school, the Theatre Director lives an equally demanding life as a State Delegate for the Democratic Party, to which he was re-elected this past June, as well as being the Vice President of Ossian Days, a board that organizes an annual festival in his hometown. 
"
I think it's not only important that I teach government and its theories and principles, but it's important that I practice it as well."
— Mr. Reynolds
But all these tasks don't get in the way of Reynolds taking some time for himself. As a politically active and curious individual, he informs himself on our country's past in order to better understand where we are in the present. Biographies of past presidents like Ronald Reagan and Franklin DeLano Roosevelt sat on his desk the day I came to his room to conduct an interview. Plastered among the many posters hanging in his classroom are signs that concern issues in our political landscape today–topics like voting rights, LGBTQ rights, and foreign policy. But although he may hold disagreements with the people he's reading about, or even with some of the newspaper headlines he occasionally glances at in the corner of his room, he recognizes how important it is to be exposed to other people's opinions. "I'm definitive in my own [political] beliefs," Reynolds says as he looks upon the books stacked on his desk. "But I think it's important to understand other people's beliefs. It doesn't hurt me at all to know someone else's understanding. One of the best things I ever did as a practicing Catholic personally was go to Bethel and take religion classes and have a deeper understanding of Protestant teachings. It doesn't weaken my faith at all to be exposed to another person's faith." 
Though Reynolds is reading about American politics in his free time, he in fact has had many opportunities to take part in large-scale politics himself. In the past two election cycles he has been offered to be Communications Director and Campaign Finance director for Indiana Congressional Campaigns, two roles he would have loved to take part in, but knew it just would not work out. "That's just enough work that I can't do it," he says. "There's just not enough time in the day." 
When asked whether he himself would consider running for an office like Congress, Reynolds surprised me with some initial hesitation, but then kept the door open for a future possibility. "I don't know," he said. "I like teaching too much to imagine myself doing anything else. But if the opportunity presented itself and no one else was willing to step up, I know myself too well to say that I wouldn't do it, because I probably would."