Local Girl Boss Alert: Clare Keller
Over the duration of quarantine, many people picked up new hobbies–from exercise, to having weekly mental breakdowns, to manifestation, or redecorating their homes. Clare Keller, a senior at Saint Joseph High School, decided to startup her own small print business during this time in the pandemic. When asked about how she got the idea to start her own business, Keller said,"Being in the middle of a pandemic, I found myself with a lot of time on my hands and was constantly looking for a creative venture to fill some of it. I was working on some animation for a scholarship video when I fell in love with making digital art. I had seen other people my age start their own small business online and so I decided there was no better time to give it a shot." 
Girl boss Clare had taken advantage of the excessive free time during quarantine to start her business in mid-July. Clare runs her business by herself on Instagram under the username "OneOfAKindDesignsCo"where she takes commissions and creates digital prints for people online. She mainly creates colorful prints, portraits, and stickers. Not only does she create art for business, but she also promotes positive messages that she is passionate about through her work.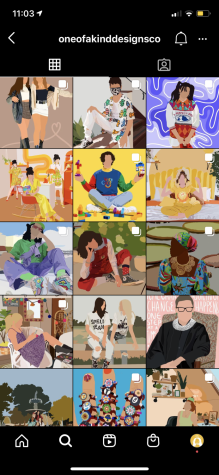 As an independent small business, Clare has definitely experienced many ups and downs. Clare's business has a wide variety of customers, ranging from people from Saint Joseph High School to random people online who all show interest in her business. However, with so many different types of people wanting to purchase from her business, she is bound to have some not-so-pleasant experiences. After owning her business for a few months now, Clare says," Being a new self run small business, it definitely does pose a lot of challenges and I think a lot of other small business owners would definitely agree with me just because online there are a lot of people who try to take advantage of you." Keller's store policy is that she does not require payment until she produces a final product that ensures the customer's happiness. Unfortunately, there have been instances where Clare's generous store policy has been taken advantage of. There have been times where she has sent the client their print and the client had taken the print with no payment or follow up message. However, Clare states,"That it is frustrating, but I understand it comes with the territory."
Although there have been a few bad experiences in Clare's history of owning "OneOfAKindDesignsCo" they definitely did not outweigh the positive experiences that have resulted from her business. Not only is this small business a good side hustle for a high school student, but it also provides a fun and creative outlet. School has always been stressful, especially now, while we are in the middle of a pandemic. To deal with the stress, Clare uses her digital printmaking business to help her escape from the competitive and demanding atmosphere at school.
In addition to being a creative outlet from stressful times, "OneOfAKindDesignsCo" has provided some neat opportunities for Clare. One opportunity that arose from Clare's small business was the chance of working with Sally Miller, a clothing brand with around 91k followers on Instagram that is sold at Bloomingdales. When asked about this amazing opportunity, Clare stated that this was one of the craziest experiences she had. One day, she was contacted on Instagram by someone who worked for Sally Miller, which is a clothing line that's sold for teens at Bloomingdales. Initially, she was contacted by this woman to revamp their social media pages and to give them a new look. It was pretty obvious that she was unaware that Clare had not gone to college yet, so Clare decided to tell her that she was still in high school. At the time Clare wasn't even 18 yet, so unfortunately it did not work out. Even after finding out that she was too young to take the opportunity, Clare stated,"It was still really cool that [the Sally Miller woman] thought what I was doing was worthy of creating for a verified Instagram account." 
Aside from being a creative outlet and providing her many opportunities, Clare's small business had even caught the eyes of some well-known influencers. When Clare first started "OneOfAKindDesignsCo," she created many prints of influencers she followed on TikTok or content creators she watched on YouTube who have thousands to millions of followers. To her surprise, some of the YouTubers and TikTokers she created prints of had left nice comments, liked her prints, and reposted her work on their Instagram stories. Clare says,"It was really cool to be noticed by some of the people I've been looking up to for years now."
Clare wants to continue her business throughout college, regardless of her major. Although she is not pursuing digital art as a career, she states,"OneOfAKindDesignsCo has not only given me a creative outlet, but also a way in which I can touch people's lives through art and for that I will be forever grateful." Please go support our Girl Boss Clare on Instagram: @oneofakinddesignsco!