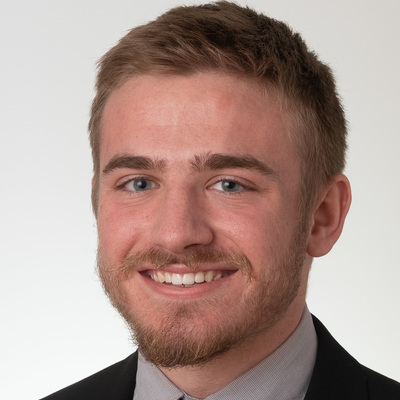 Denis Ryan Kelly Jr.
Many people today find themselves struck with uncertainty about what their vocational call is, but with the case of Andrew Barnes, not finding time to think for ourselves, but listening to God's will, is what can guide us to our true calling.
Many vocation stories come with a moment of revelation, but Barnes always envisioned that he was going to be a priest. As a kid, he would frequently "play mass" with his siblings. He had planned to be a priest throughout his childhood, until later on into grade school when this vocational journey hit a bit of a roadblock. He says that during this time, he pushed the idea of the priesthood out of his head and didn't really consider it having any possibility of truly being his vocation. He told me this was "based on misconceptions of what a priest's life actually consisted of." Lives of priests, to children, may seem boring and monotonous, with the priests never doing anything fun. When he was younger, like many kids, Andrew thought that being on this earth was "an easy life with a guaranteed ticket to heaven." Thoughts like these are what hold people up from going onto fulfill their vocation. However, God is quite stubborn when it comes to knowing our true calling.
A couple years later, Andrew attended Saint Joe High School. He told me how much of a positive experience it was for him. He felt that he had great relationships and was very prepared to college, with certain classes even compared to some of the ones he took during high school. Some of Andrew's favorite memories from Saint Joe include ones revolving around the athletics of our school, with the immense excitement found in the student sections during football and basketball games being quite memorable for him. He was a part of the golf team and played the number one spot during his last match, managing to shoot under par. During his senior year, he was even a part of the homecoming court.
One of the most profound experiences during Andrew's high school years came just three days before his last day of senior year. He says, "it hit me that Jesus is literally present just down the hall in the chapel and I have never taken time to visit Him." Andrew's prayer life increased during the last years of high school, leading him to pray 5-10 minutes everyday during school, either at lunch or before school when he would directly talk to God. This set the stage for Andrew answering God's call during his college years.
Once Andrew got to college, this call to vocation called to him more and more. He attended Marian University in Indianapolis, which is only a mile away from Bishop Simon Bruté Seminary. His early college years were marked by a strengthened prayer life and this ever-present voice calling him to be a seminarian. Andrew said that he felt truly drawn to go to the seminary. So, in the middle of his sophomore year, Andrew answered God's call and quickly applied to be sent to Bishop Brute Seminary. Andrew has stated that he felt God led him to Marian University so he could answer his call to the faith life.
Andrew has described his last year and a half at the seminary as being the most joyful of his entire life. While there have been challenges, including tight schedules and a great deal of expectations, the joy of Christ still prevails in his life, making all of the struggles absolutely worth it. While at the seminary, he has made some of his best friends he's ever had. Andrew really appreciates how in the seminary, there are a number of guys with the same goal as him: to become priests and to draw closer to Christ. Since the chapel is in the middle of the seminary, Jesus's true essence inside of the tabernacle is alway near to him. Going to the chapel to pray is, for him, taking refuge in the Lord, which gives him the full perspective on what truly matters in our lives.
For Andrew, life as a seminarian is very structured, but ultimately very rewarding. Each day consists of morning prayer, mass, school, evening prayer, dinner, and then night prayer to end off the day. The seminarian and faith life is not all solitude, since there is a great deal of social interactions that go on during the week. There are dinners when Andrew eats with the rest of the seminarians, formation nights where there are talks conducted by priests, and times during weekends when seminarians can hang out together, watch sports, and even play games.
Andrew says his prayer life has increased significantly. With all the time he spends in prayer everyday, he has really felt the impact of being in His presence and refuge. He has not just been given an occupation, but an entire way of life that has enriched his existence with all new meaning and joy. After he graduates in the spring, he expects he will go to Mount St. Mary's University in Maryland, which is where our Diocese sends their seminarians for theological studies.
For those who are uncertain about their vocation and future, Andrew Barnes has been there and knows what it's like. When asked about what advice he has for people discerning any kind of vocation, he says to just take the time to listen to God. There may be struggles in the future, but God makes the journey a whole lot less uncertain if you unite your will with His. He says, ""