Interning with Redeemer Radio: An Inside Look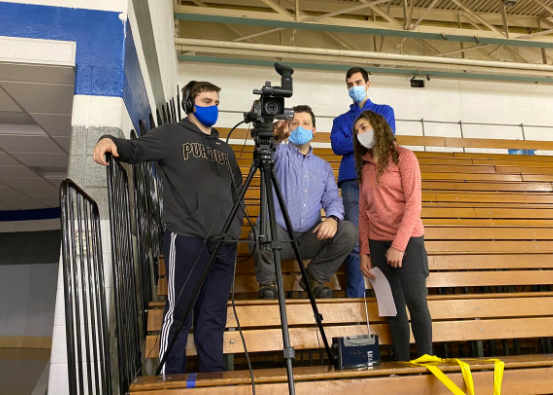 When the play-by-play announcer said my name and "kicked" it to me, I was hooked. 
I was live on the radio, on the sidelines of Saint Joe's football game, relaying updates from the field. My voice was being broadcast to the entire South Bend region. 
I felt a quick burst of anxiety. And then…I started talking. And then I suddenly felt…at home.
After the game, I chased down a player for an interview, with an accompanying video to post on social media.
My internship this fall at Redeemer Radio in South Bend, covering high school football, soccer and basketball, has offered a crash course in video editing, social media and interviewing.
Not only does the internship have an in-class aspect where students learn more about the media industry, but I've also had the opportunity to gain hands-on experience in the broadcasting world — along with other Saint Joe and Marian students.
Students in the program learn about sideline reporting, how to work in front of and behind the camera as games are live-streamed online, and how to interview players and coaches. 
"Being an intern at Redeemer Radio taught me what it's like to cover high school sports. My favorite part is probably being able to go to the games and help with social media, the camera, or go on the sidelines," says junior Teo Sanchez.
In the classroom, students learn about the history of journalism, study terms and common phrases that are used in the broadcasting world, and research and give presentations on historic media figures. 
The program is led by Angelo DiCarlo, who worked at WNDU as a sports broadcaster for 11 years and now runs sports programming at Redeemer Radio. Other people who have worked in the local media industry also offer advice to students.
Interning at Redeemer Radio allows students like me to get a real-world view of the media industry. It has inspired me to apply to college journalism programs.
This new passion for broadcasting started simply enough, on the sidelines of a high school football game.