Nonstop Battle for Wrestlers After Winter Break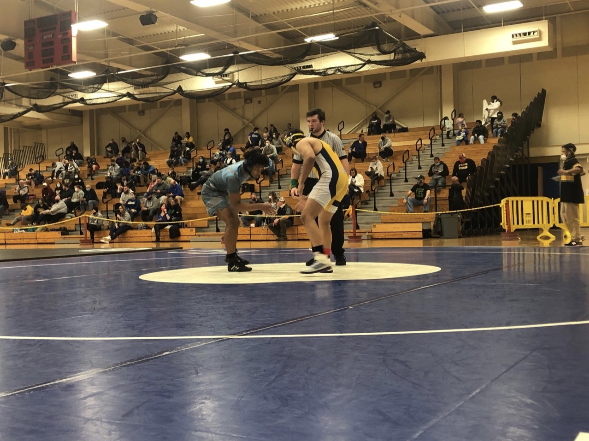 Fresh out of winter break, the Saint Joseph Wrestling team faced continuous battles against 13 different schools in 5 different meets within ten days from January 6 to January 16! The team showed outstanding improvements with the help of Coach Will, winning 3 out of the 5 meets, and faced their toughest competitions in the NIC meet last Saturday at Elkhart High School.
On January 6th, Saint Joe defeated Washington at home with victories in two weight divisions from Zach Kennedy and Brady Ferrell, winning the overall tournament.
On January 9th, the team traveled far away to Pioneer Junior-Senior High School in order to face Pioneer and Rossview High School. The trip proved worth it as they took down both schools. Zach Kennedy, Amarion Parker, Jack Aranowski, Jacob Marscola, and Brady Ferrell were able to secure pins and forfeits from the other team in order to win the whole meet.
Two days later, the team traveled to LaVille High School. Brady Farrell secured a win in the 132 pounds weight division while Amarion Parker secured a win in the 160 pounds weight division. Unfortunately that wasn't enough to secure a win for Saint Joe as LaVille beat Saint Joe in many other weight division classes as well. 
Another meet showed up two day as they faced John Glenn. Amarion Parker won his match in a pin in the 160 pounds weight division, John Aranowski won his in a pin at 182 pounds, and Jacob Marscola also won his in a pin at 190 pounds. These three wins weren't enough to help secure a win from John Glenn.
Finally, on January 16th, the Saint Joe wrestlers had their biggest, toughest meet yet in the NIC meet at Elkhart High School, facing at least 6 out of 12 different schools, some they have already wrestled in the past. John Aranowski placed 3rd overall in the 182 pounds weight division, Brady Farrell placed 4th overall in 132 pounds, Zach Kennedy placed 5th overall in 220 pounds, and Amarion Parker placed 6th overall in 160 pounds. Overall, the Saint Joe wrestlers placed 8th out of 12 schools.
The team will face Culver at Culver High School this Friday 6pm and Adams this Saturday 11am at Adams High School where senior night will take place. Come out and support the team!