Boys and Girls Swimming and Diving Celebrate Senior Night in Unprecedented Way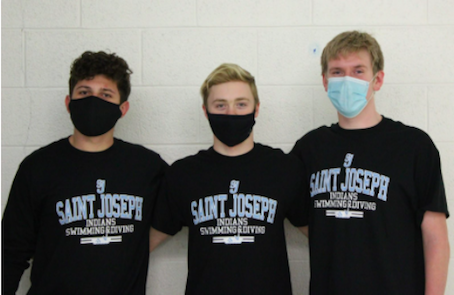 The Boy's and Girl's Swimming and Diving teams celebrated their senior night last Friday, January 8th.  This year's seniors included Saleena Vu, John Bossler, Tatum White, Gage Hannewyk, Lauren Pieniazkiewicz, Mary Cate Pruitt, Jack Murray, and Emma Feltzer.  Due to these unprecedented times, they celebrated in an unprecedented way. 
The teams gathered for a practice at 5:45 and the fun started at 7:00.  Typically with any sport, senior night happens at the last home event of the season, but the Indians got to celebrate at the end of a fun practice.  The teams practiced for about an hour then the teams were split into 5 separate teams of 4 to swim some fun relays after the divers showed off their skills.  The first relay was a typical 200 yard medley relay, the second was a 200 yard freestyle relay, the third was the coach's choice.  They ended up deciding the swimmers got to swim with lifeguard tubes.  The final relay of the night was a senior parent choice relay.  After days of collaboration, they decided to have the swimmers wear a tutu and pass it on to the next person on the relay.  
The seniors were recognized for their years of hard work and resilience as a part of their programs.  This is a very talented class, with five swimmers committed to Division 1 schools:
Mary Cate Pruitt- University of Notre Dame
John Bossler- University of Louisville
Emma Feltzer- Illinois State University
Lauren Pieniazkiewicz– University of Arkansas at Little Rock
Gage Hannewyk- Xavier University 
Not only is this class talented, it's smart.  Five seniors are planning to work in the realm of science.
Saleena Vu- Physical Therapy 
John Bossler- Physical Therapy
Tatum White- Orthopedic Physician's Assistant
Lauren Pieniazkiewicz- Veterinarian
Emma Feltzer- Psychology
Jack Murray is the highest reacher of the group, with plans to open an ice cream shop and use the experience to give TED Talks (genius plan).
Be sure to congratulate the seniors if you see them in the halls!