Ossoff and Warnock win Georgia, clinching Democratic Senate Control
Jon Ossoff and Reverend Raphael Warnock were elected to the United States Senate on January 6, concluding a race to the finish that garnered national attention and extraordinary financial input from both sides of the aisle. 
The stakes could not have been higher. With Senate Control and President Joe Biden's legislative agenda on the line, the four candidates were cognizant of the enormity their races held. 
Republicans David Perdue and Kelly Loeffler pushed to paint Ossoff and Warnock as "radical liberals" seeking to bring socialism to America and completely upend our nation, two claims that have no merit in facts. With a GOP divided on whether the election was rigged and whether to send Americans $2000 relief checks, the two candidates were unable to spur turnout that arose in November as the Democrats outperformed President Biden from November, a feat ignited by the turnout of black and Asian-American voters.
Although President Trump paid a last-minute visit to the Peach State the night before the runoffs, it wasn't enough; statewide, Republicans were more enthusiastic about President Trump than down-ballot tickets, leaving little excitement for January when Trump wasn't on the ballot.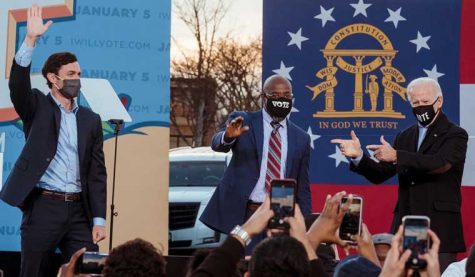 Meanwhile, Ossoff and Warnock stood with a united Democratic Party eager to take over the Senate for the first time since 2014. They campaigned heavily on $2000 COVID reliefs checks, as well as a "Health. Jobs. Justice." slogan that caught on with many voters.
In the end, the state of Georgia, an emerging swing state in the South, chose a 33-year old Jewish journalist, Jon Ossoff, and a Black Pastor of Ebenezer Baptist Church, Raphael Warnock, exhibiting impressive progress for a state that has faced significant racial issues in the past. 
Their wins came as a surprise to many who were closely watching the race. Georgia is not a particularly blue state and had not sent a Democrat to the Senate since 1996 — let alone two Democratic Senators. But following a Biden upset win in the state this past November, there was a cautious optimism within the party. 
Voter registration efforts led by Stacey Abrams, the Democratic nominee for Georgia governor in 2018, appear to have greatly helped their wins; she created an organization called "Fair Fight Action" to fight voter suppression and turn out black voters for the 2020 election, ultimately registering hundreds of thousands of voters. Her hard work came to fruition in November when Joe Biden won the state — the first Democrat to do so since 1992. 
"There's a lot of work that's gone into this, but Stacey really is the architect of what's been built in Georgia," said Dubose Porter, the former Georgia Democratic Party chairman and an Abrams mentor. 
Abrams knew all along that Georgia had the opportunity to sway blue. "Georgia has had the potential for years," she said in an interview shortly before the election. "It didn't just start this cycle. This has been work that's been ongoing for nearly a decade, and I'm just proud to see it come to fruition and for it to finally receive the level of investment it deserves."  
The pair of wins were a sign of relief for Democrats across the country; with control of the House, White House, and now the Senate, their legislative agenda, as well as Biden's cabinet nominees, can be more easily furthered in both chambers of Congress, even though a slim majority exists in the House and Senate. This will certainly include COVID relief, criminal justice reform, gun control, climate change policy, and other legislation that will bring progressive ideas to the forefront for an evolving nation eager for change.