Ratigan Powers Saint Joe to Winning Record
Junior guard averages 17 points per game.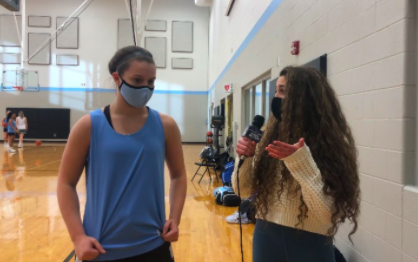 Junior Kelly Ratigan knows that the Saint Joe varsity girls basketball team isn't the strongest, fastest or tallest team in the Northern Indiana Conference.
But the hard work, dedication and hustle of the players, she says, help explain the team's 12-9 record overall, along with the 6 wins in the NIC. 
"Our offense has been really really good lately, especially getting the boards and getting rebounds."
Those factors also explain why Ratigan, who plays the guard position, is the leading scorer on the team, averaging 17 points per game as of last week. 
"My teammates have been really good this year finding me in the corners, finding me in my hot zones, where I'm shooting the best," Ratigan says. 
While playing hard and hustling for rebounds have been a major focus this season, Ratigan says the team has one primary goal in mind.
"We are focused solely on sectionals and getting through these next couple of games strong and as fast as we can," she says.
The lady Indians faced Elkhart this past Friday, winning by a score of 59-51 and Ratigan contributing 25 points. The Indians add another victory to their record as they push ahead to sectionals.