La Señora Francisca Flores
The World Languages Department welcomes a new Spanish instructor.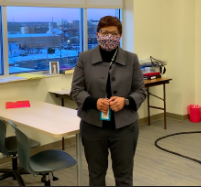 Saint Joseph High School is home to many wonderful students, faculty, and staff. From professional artists to well experienced teachers with 20 plus years of teaching; you will find it all at Saint Joe. We have the fortunate opportunity to meet one of our new Spanish 2, 3, and AP teachers, La Señora Flores.
Mrs. Flores was born and raised in Mexico. She studied for the most part in Mexico, but eventually went on to study in San Diego University in California. Mrs. Flores has two majors in engineering, one being BS and the other being a master degree in engineering. On top of her already impressive resume, she went on to San Diego University to earn her Bachelors in Arts in order to be able to start teaching in schools. 
One may wonder, "Why on earth would you decide to come to South Bend after having lived in San Diego?" Her husband owns his own engineering business which is currently opening factories in old buildings including one right here in South Bend.  
Before Saint Joe, Mrs. Flores worked at Saint Adalbert church down in the West Side of South Bend as a director of religious education, which included overseeing activities such as the 8th grader's confirmation, first communion, and other religious programs on the Saint Adalbert grounds. She considers her time in this position as a huge blessing in her life!
At Saint Joe, Mrs. Flores explains that she has fallen in love with the students and looks forward to seeing us every day. She calls us "the best kids", and loves how amazing and kind every saint Joe Student is. She is happy to be here at Saint Joe, and on behalf of everyone else: We are glad to have her here too!