Brady vs. Rodgers: What Saint Joe Students Think
The Tampa Bay Buccaneers played the Green Bay Packers at Lambeau Field this past weekend, but most of the attention was on one of the greatest quarterback matchups of all time- Tom Brady vs. Aaron Rodgers. Saint Joe Students had some mixed reactions as the Bucs held on to win 31-26 after taking a 28-10 lead in the third quarter.
While many believe that Tom Brady defeating the favored Packers on the road all but ends the Rodgers-Brady debate, Saint Joe students like Junior Ben Amat have some interesting insights. Amat says, "I believe the debate between Tom Brady and Aaron Rodgers is as tight as it's ever been. Sure, Tampa Bay did win the game, but Rodgers was arguably dealing with a worse offensive line which allowed 5 sacks."
Senior Football player Zach Smith, a die hard Packers fan, gave a perspective on the game that was simple and to the point. Zach said, "That sucked- our defense made some plays and Rodgers was Rodgers, but you can't win when the defense played as bad as it did at some points in the game." In many ways the game was a tale of two halves, and perhaps the defensive lapses in the first half were too much to overcome for any QB.
These Saint Joe students brought an interesting angle to the game and both quarterbacks' performances. Zach also says, "Rodgers outplayed Brady- he had 350 yards, 3 touchdowns and 1 pick while Brady threw 3 picks."  Now given that Brady is 6-1 in Super Bowls and beat Rodgers at Lambeau as a 43 year old, most may even see the debate of the greatest NFL player of all time as over. But it's always great to see diverse opinions on the dispute between these two great quarterbacks, and Brady's upcoming matchup with the incredibly talented Patrick Mahomes promises to add more fuel to the discussion.
About the Contributor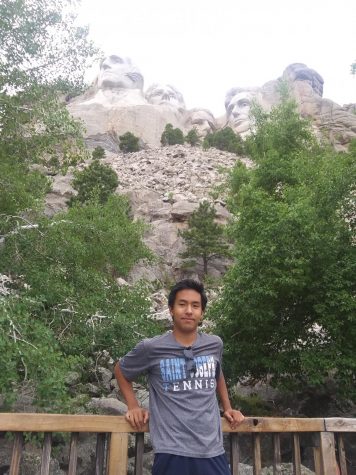 Jonathan Liu, Staff Writer
Hello! I'm a senior in News and Broadcasting. I play tennis and run track. Outside of school I enjoy watching shows, rooting for the Lakers, and spending...