COVID Safe Winter Activities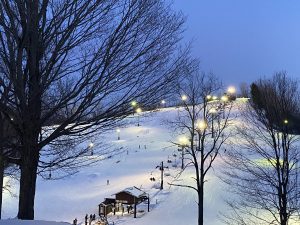 With an unusual amount of time on your hands, you may be looking for productive ways to spend it. However, it is important to stay safe and ensure that all your decisions are responsible and promote the health of the community. With the addition of the cold weather that winter brings, you may feel you are limited in your endeavors, however, there are plenty of COVID safe activities to choose from. 
Going through your closet is a great way to declutter your room, especially with the beginning of a new year. Starting out fresh with only pieces you wear frequently helps you let go of what you don't need and make space for what you do. As well, you can give back to the community by donating what you no longer want. The pandemic has placed financial burdens on many individuals and families, but donating clothes can assist them get back on their feet. In the South Bend, Mishawaka, and Granger area, there are five Goodwill stores with a donation drive-thru, open seven days a week. Not only does purging your closet of items you no longer need benefit you, it also has a positive impact on the community. 
The Howard Park Ice Skating Rink is not letting even a pandemic anything stop them from providing the community with a fun winter activity. By keeping capacity low and requiring masks, this rink is working towards keeping community members safe. If interested, make sure to reserve spots on their website for you and a small group of friends to enjoy a fun day of skating. 
Taking time for yourself, especially in these stressful times, is extremely important. Many people often dismiss reading in their free time as it is usually a core part of their school day. However, reading has been proven to decrease stress and increase relaxation. Incorporating a book hand selected by you and reading it, even for just a few minutes a day, can be extremely beneficial. If this time you set aside remains something you dread however, try listening to podcasts. There are many free podcasts available and from crime series to life advice, there is a podcast for everyone.  
If you are looking for an exhilarating day trip, head up to Swiss Valley in Cass County, Michigan. This ski resort has put in place COVID precautions, such as lowering indoor capacity to 25%, so that you can more safely enjoy your day skiing and snowboarding. If comfortable attending a more public place, this is a great way to get outside and enjoy nature. 
With an excess of free time, you may be finding yourself sitting at home with nothing to do. Although you may wish you were spending this time on vacation or at a concert, having down time is the perfect opportunity to pick up a new hobby. Learning and partaking in a new form of exercise, like yoga, is a great way to keep your body moving in the safety of your own home. However, keeping your brain active is just as important as keeping your body active. Journaling and writing is a great way to do this, as well as a healthy outlet to gather your thoughts. These are just a few free and simple hobbies to try out, but there are so many others out there. There is also a large number of resources and information on specific and unique hobbies, should you find yourself becoming invested in one. 
Your time is yours, so use it wisely and safely!