Getting the Vaccine: Tips, Reminders, and Guide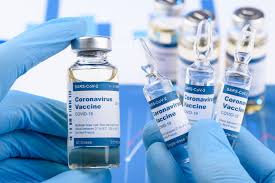 With a massive wave of vaccines coming in the next couple months, getting the Covid-19 vaccine is something that you may be experiencing soon, so here's a comprehensive guide to prepare you as well as inform you on the vaccine experience.
I got the vaccine a couple of weeks ago and am scheduled to get my second dose next week. If you work in the healthcare industry or have people with immune deficiencies in your household, this vaccine is something you are strongly encouraged to seek out. If this does apply to you, heading onto the county health department's website is where you sign up. Vaccines are not given on a first-come, first-serve basis, but rather must be reserved online weeks in advance. These run out fast so make sure to reserve your spot as soon as you can. The website will give you a specific time for you to come, so make sure you get there on time since there may be long lines.
When going to get the shot itself, you will need a form of identification (driver's license), social security number, and your health insurance information. If you do not currently have health insurance, you still will be able to get the vaccine. The vaccine is paid for by the government, so you do not have to worry about paying for it.
Some of you may be squeamish when it comes to needles, but do not fear getting this vaccine. I have gotten shots before and this is by far the smallest needle I've been given anything with. I could barely feel it as it was being stuck in my arm, and the whole process was over in less than ten seconds. Before getting shot, they'll ask you which arm you want the shot to go into. I was told that, to reduce the pain afterwards, that it should go into your dominant arm. Since you are using it a lot anyway, getting a shot in your dominant arm will make the soreness go away much faster due to how that arm has much more blood flow than the other arm.
When getting your shot, you may receive one of a number of different types of vaccines depending on where you are getting it. I got the Pfizer vaccine while my sister went someplace else to get it, so she got the Moderna vaccine. The effects we had were different, yet still wielded the same results in the end. I had some soreness in my arm for one to two days after getting the vaccine, but this was completely manageable with me being able to do most stuff just fine. It felt quite funky to raise my arm above my head, but I felt completely normal after a one to two day period. While I experienced just soreness, my sister experienced a slight rash with her vaccine. This may vary depending on your body type, but still, the effects wore off very quickly for her as well.
You may become nervous while reading the papers they give you as you are getting the shot with it saying the vaccine is "unverified." However, there are no reported cases of young people being harmed or becoming extremely sick from the vaccine, so it is pretty much certain that you will be completely fine.
After getting the vaccine, you will have to schedule when you are going to get your next shot a couple weeks down the road. While there have been rumors circulating that there may be single dose vaccines in the future, for now, you will have to get two separate doses. It is imperative that you get the second dose because you will not be fully immune unless you receive both shots. It is also important that you remember to not lose the card they give you that certifies that you got the vaccine and are scheduled for another shot. Just in case you are prone to losing things, I would take a picture of both sides just to be safe. All you will need to do is just bring your card in when getting the second dose and you will be all set.
Getting shots may be scary for some folks, but is completely worth it and important considering how we can protect those we love by limiting the spread of this disease.