Saint Joe bids a fond farewell to its basketball seniors
The Indians talk about what senior night means to them and their goals moving forward.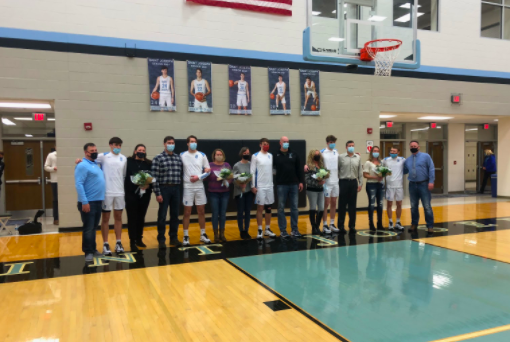 When the seniors on the Saint Joe varsity boys basketball team were asked what their favorite memory was while being a part of the team, there were a lot of different answers. 
"Oh man, I don't even know," said senior JR Konieczny. "Probably all of the Coach J quotes we get. 'Get on the line' is one of them. 'Be comfortable being uncomfortable'. That's a few of them."
With the boys' senior night occurring this past Friday, February 19th, seniors Will Terry, Connor Litka, Adam O'Dell, Jack Futa, and JR Konieczny talked about this past season and what it meant to them.
"You only get one senior season in high school," said senior Will Terry. "It's been really fun and since we might not have had one it means that much more."
While JR Konieczny is committed to the University of Notre Dame to continue his basketball career as a division one athlete, this is not the case for all the seniors. For many of them, this is their final goodbye before moving forward.
"I've enjoyed it a lot, especially being a senior it means more this year since it's our last year," said senior Adam O'Dell. "I don't think I am going to continue in college so it's really just a wrap up of my basketball career."
The boys faced the Washington Panthers on Friday night. Before the game, in order to honor them, the seniors walked out onto the court with their parents. The announcer read their names and favorite moments while the boys received flowers.
The Indians defeated the Panthers with a final score of  85-36. With a record of 15-4, the boys will face Plymouth on Tuesday and Mishawaka next Friday before they begin sectionals. 
With the seniors' season coming to an end, the boys prepare to finish strong in sectionals and focus on their goals moving forward.
Senior Connor Litka said, "We've created something special here, it's been a good journey."