Getting the Second COVID Vaccine: How to Manage the Effects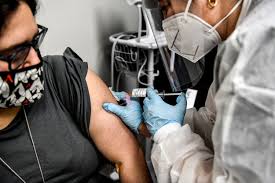 While getting the second dose is even simpler than getting the first one, managing the much greater effects of the final dose is a whole new thing to manage entirely.
The process of getting the shot itself is much quicker than the first, with you just needing your card and answering a health screening before waiting to get it. As a person who received a shot at around five in the afternoon, I would really recommend everyone to go get the shot early in the morning.
Getting the shot itself is near painless, but a big wave of pain comes around 10 hours later. For me, this big wave hit at four in the morning, leading to an experience where I was really struggling to get some sleep. Going to get the vaccine earlier than I did would likely have the effects start before going to sleep, so you would be able to start to manage it before going to bed. I would recommend not taking Tylenol or any other kind of pain relief medicine until the effects start becoming apparent to avoid waiting to get relief.
The effects of the second dose often include headache, fatigue, nausea, and feverish-like symptoms. The pain from the headaches can be quite uncomfortable, but do not last long and can be managed.  Eating light and healthy foods can boost your energy without making you feel sick to your stomach. Drinking lots of cold water both feels soothing and helps out with managing these effects.
The after effects do not last more than a day, with the effects calming down dramatically by day two. This subsides into minimal pain and quickly goes away soon after. Only some fatigue remains for a day or two before feelings are back to normal.
When getting both doses of the vaccine, the individual is around 95% immune, depending on their overall health condition. Once vaccinated, people are still encouraged to practice social distancing and mask wearing. Doing this still just goes a long way to ensure everyone's safety and to get us closer to normalcy.