College Volleyball: The Next Step for Volleyball Players Katie Schmitt and Alyson Ferris
Volleyball players Katie Schmitt and Alyson Ferris explain their volleyball careers and the next step for playing at the college level.
Katie Schmitt and Alyson Ferris are not rookies when it comes to playing volleyball.
In fact, both girls have been playing for nearly a decade. Alyson has been on the court since she was in fourth grade, and Katie has been competing since she was in third grade. It is definitely safe to say both girls have plenty of experience playing volleyball under their belt, and they are both very excited to further their volleyball careers at the college level.
However, it was not easy for either girls to get to this level of volleyball – both girls have had extreme dedication to the sport including years of playing and countless hours of practice.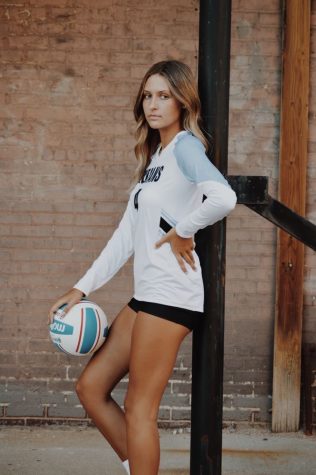 Katie feels like she has been around the sport for what seems like forever. She first gained interest in the sport when she used to attend her sister's games. In fact,  her volleyball career all started when one of her sister's teammates had a younger sister, who was Katie's age, and they began hanging out and shared interest in the sport. One of the coaches asked their parents if they would be willing to play on the same team together in third grade, and that is how it all started.
Alyson has her own story about how she began her volleyball career. She initially had no interest in the sport because she was more involved in basketball, but she was encouraged by many around her to try out for the volleyball team because of her height when she was in fourth grade. So, Alyson finally did, and she fell in love with the sport from there.
Both girls have experience playing travel as well as school volleyball. Katie first started playing at Krush Volleyball Club for three years, but later switched to Dunes Volleyball Club where she is currently playing her seventh season. Similarly, Alyson played two years at Krush Volleyball Club and four years at Dunes Volleyball Club.
Katie used to be an outside hitter like Alyson, but she started playing as a libero a couple years ago.
Katie "love[s] the challenge the game brings" and that "nothing feels better than getting that saving ball that could lead to the winning game." She also explains how she loves all of the people she has met along the way and that it has given the opportunity to meet some of her best friends.
"
I love the challenge the game brings, nothing feels better than getting that saving ball that could lead to winning the game."
— Katie Schmitt
Alyson loves "the unexpected turns of the game and the competitiveness it takes to win."
One of Katie's favorite memories from playing school volleyball was beating New Prairie her junior year in five sets after "losing unexpectedly to them in sectionals at the end of the previous season." She also remembers fondly travel volleyball when her team tied for third place at nationals at age 13, despite having no idea that they were in the semi-finals.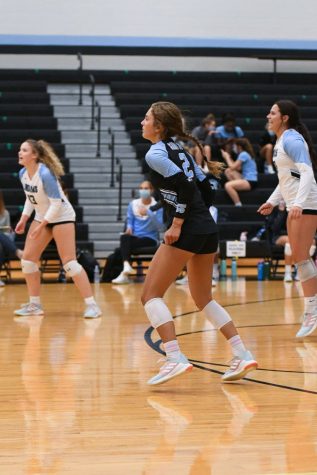 Alyson shares that some of her favorites memories from playing volleyball are meeting new friends and being able to stay in a hotel with them.
Both girls are ready and extremely excited to continue their volleyball careers at the next level.
Alyson will be attending and playing at Glen Oaks Community College, which is a Division II school. It is located in Centerville, Michigan. With a choice between playing at Glen Oaks Community College, Albion University, and Franklin University, her visit to Glen Oaks felt like home to her, making it an easy choice.
She is extremely excited about being able to continue being pushed by coaches and teammates and to be able to get an opportunity to continue playing at the next level. She is "excited to meet new people and start new bonds that will last a lifetime."
Katie will be playing Division I volleyball at Grand Canyon University in Phoenix, Arizona. Although the recruiting process became very hard once COVID hit, so it was hard for schools to reach out to her about playing at the next level.
She realized Grand Canyon University felt like home when she stepped on the campus, so she could not pass up the opportunity. Still it is scary for her to be moving across the country to play volleyball, but she knows it is the right decision for her. She is most excited to be able to attend her dream college and to be given the opportunity to play the sport that she loves with people who are just as dedicated and passionate about the sport as she is.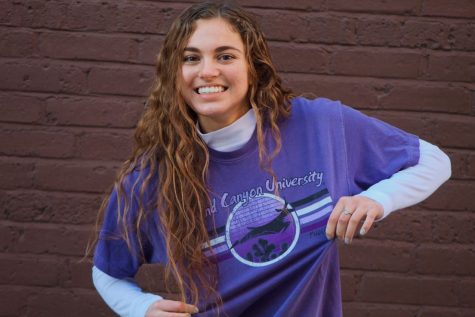 It is safe to say that both girls will succeed tremendously playing at the next level and that they will both be missed on the Saint Joe volleyball team.