The Cure We've Been Waiting For
It's been almost a year since our world has gone full fledged pandemic. We've grown accustomed to the masks and social distancing but there has always been that question in the back of our minds: when is the cure coming, when can we do away with masks and forget about the safety precautions? 
Now we have not one, not two, but three coronavirus vaccines: Moderna's,  Pfizer-BioNTech's, and most recently Johnson and Johnson vaccines are all FDA tested and approved. 
The Centers for Disease Control and Prevention reported Tuesday, March 2 that 51.8 million people have received at least one dose of a Covid-19 vaccine, including about 26.2 million people who have been fully vaccinated, receiving two doses. About 1.94 million shots are being administered per day. 
Locally numbers of immunizations increase steadily as over 1000 doses are administered daily in St. Joseph County.
In Indiana, those 50 years and older are eligible for the vaccine as well essential workers. In Michigan, those 60 years and older, teachers, grocery workers, essential workers and high risk adults are all eligible for the vaccine.  Teachers and childcare workers will be receiving both doses of the vaccine by the end of March.
President Biden announced to the press, "About three weeks ago we were able to say that we would have enough vaccine supply for adults by the end of July, I'm pleased to announce today … this country will have enough vaccine supply … for every adult in America by the end of May — by the end of May. That's progress."
Hopes are rising that a post pandemic world may be on the horizon in May 2021.
About the Contributor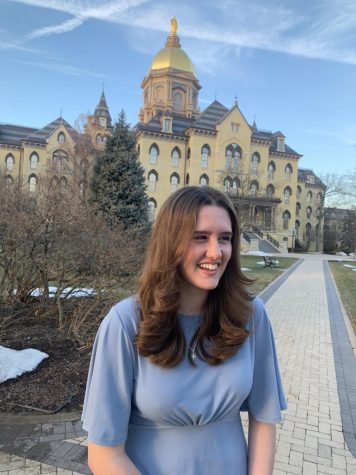 Mary Bernardy, Staff Writer
Hey! I'm a freshman and involved in Mock Trial, Student Council, Theater, Right to Life and I run track! I am a nationally ranked writer for Scholastic...